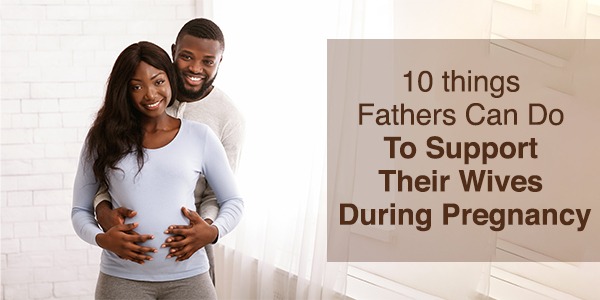 Wondering what 'to-be-dads' have got to do with pregnancy? Gone are the days when pregnancy was a totally ladies' affair. Today men are more supportive than ever to help their spouses and believe in the power of togetherness in welcoming a new member to their family. For those who consider being an integral part of their wife's pregnancy, here are 10 things you can do to support them.
Visit The Doctor Together
Accompany your partner while visiting her doctor. It allows you to understand the physical and emotional transformation that your wife goes through.
2. Help Her Eat Healthily
When most women develop hatred toward food, some may crave specific items during pregnancy. As a caring spouse, make her eat healthy food when you satisfy her cravings.
3. Work Together
Discuss with your partner about household chores that need to be shared. If you observe your wife experiencing challenges limiting her physically, step in immediately. Be her Superman.
4. Seek Advice From New Dads
Often during pregnancy, a working wife may quit her job. It may become an added financial burden on you. Talk about such concerns and get tips from other new dads who have already gone through the same phase.
5. Plan For the Baby
Talk to your spouse about what to buy for your baby. Ask your friends or family for used cribs and strollers so that you need not spend much on new things. Most of them will be happy to share their close- to- new products.
6. Stay Healthy
While doctors advise relaxing exercises for pregnant women, men often take a back seat. Instead, when you encourage your wife to engage in exercises, you too can be a part of it. Be it a swim, yoga, or a walk, enjoy it together!
7. Keep Your Wife Away from Strong Chemicals
Do not let her use strong cleansers or chemicals as it is harmful to both mother and the baby.
8. Be Proactive
Due to physical stress, women generally go through emotional breakdowns during their pregnancy. Don't wait for her to ask you for help. Whenever possible, offer help to make a difference in your lives.
9. Talk Out Differences In A Positive Way
At any point, keep arguments away from your conversations. It will affect the mother and child. Try not to use belittling words or any physical force. Talk out the differences in a peaceful way and build your bond better.
10. Employee Benefits for Fathers
Check out employee benefit policies in your organization. Some companies allow paternity leave for dads. Why miss all the fun and joy when you are officially entitled.