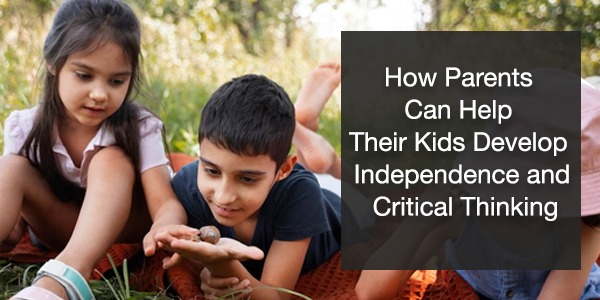 Are you tired of hearing your child scream, "Mommy, do it for me!" or "Daddy, it's difficult to wear these shoes"? The moment there's a problem, the siren goes ON! And kids expect the best solutions to come from these walking encyclopedias. How exhausting, right? Well, you're not alone in this.
In this blog, we'll dive into the magical world of raising independent and critically thinking kids. Check out these tips and tricks to unleash your child's true potential.
1. Embrace the Power of Decision-Making
Imagine a world where your child can make decisions without turning to you for approval. Trust us, it exists! Start by giving them age-appropriate choices. "Do you want to wear the red cap or the blue cap today?" Let them experience the sweet taste of independence as they make their own decisions (even if they choose polka-dotted socks with striped pants).
2. Foster a Growth Mindset
Let's face it, even superheroes face challenges. Encourage your child to see failures as opportunities for growth, rather than the end of the world. Emphasize the importance of effort, perseverance, and the ability to bounce back from setbacks. Soon enough, they'll start believing that they can conquer any challenge that comes their way.
3. Ask Powerful Questions
Time to unleash the power of questioning! Instead of providing all the answers, channel your inner detective and ask your child thought-provoking questions. "Why do you think the sky is blue?" or "How do you think we could solve this problem?" By stimulating their critical thinking skills, you'll help them develop their own ideas and opinions, turning them into mini geniuses.
4. Encourage Problem-Solving Adventures
Superheroes are notorious for their problem-solving skills. Create opportunities for your child to become a superhero in their own right! Set up puzzles, riddles, or scavenger hunts that challenge their ability to think critically and find solutions. Before you know it, they'll be using their superpowers to save the day (and you from constantly answering their questions).
5. Cultivate Curiosity
Curiosity killed the cat, but it also gave birth to countless inventions and discoveries. Encourage your child to explore the world around them, ask questions, and seek answers. Visit museums, read books, or embark on exciting expeditions. Fuel their curiosity, and they'll develop a thirst for knowledge that will serve them well.
6. Teach the Art of Decision-Making
As your child grows, teach them the art of decision-making. Help them evaluate options, weigh the pros and cons, and consider the consequences of their choices. This superhero skill will empower them to make informed decisions and take responsibility for the outcomes.
7. Foster Independent Thinking
Superheroes think outside the box, and so can your child! Encourage them to challenge conventional wisdom, think independently, and express their unique ideas. Create an open and supportive environment where their thoughts and opinions are valued. Who knows, they might just become the next big thing in solving the world's problems!