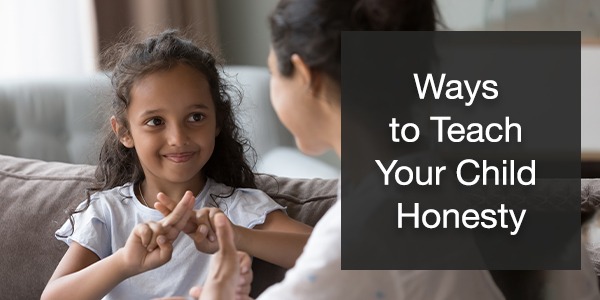 Welcome to a blog dedicated to nurturing honesty in our little ones! As parents, we strive to raise children who embody integrity and trustworthiness. Teaching our kids about honesty early sets the stage for their moral development. In this blog, we'll embark on an exciting journey of exploring conversational techniques to help guide our children toward a path of honesty.
Lead By Example
Kids learn best by watching their parents and caregivers. So, be the 'honest' superhero your child needs! Show them what it means to be truthful by practicing honesty in your everyday life. Admit your mistakes, be transparent about your feelings, and always take responsibility for your actions. When your child sees you living with integrity, they'll be more likely to follow suit.
Talk About The Value Of Honesty
Having open and honest conversations with your child is key. Explain to them honesty is imperative in building trust and maintaining good relationships. Share real-life examples that demonstrate the positive impact of telling the truth. Read moral stories that focus on the power of honesty. Discuss how honesty helps us understand one another better and how it prevents misunderstandings. By engaging them in these conversations, you'll help them grasp the value of honesty.
Create A Safe Space
It's crucial to create a safe and judgment-free environment where your child feels comfortable sharing the truth. Let them know that you appreciate their honesty, even if the truth may be difficult to hear. Show them that telling the truth is more important than avoiding punishment. When your child feels secure in being honest, they'll be more likely to open up to you.
Encourage Empathy And Understanding
Teaching your child to consider the feelings of others is an excellent way to foster honesty. Help them understand how dishonesty can hurt someone's feelings and damage relationships. Encourage them to put themselves in other people's shoes and think about how they would feel if someone lied to them. By developing empathy, your child will realize the importance of honesty in protecting and respecting others.
Emphasize The Power Of Honest Friends
Who we surround ourselves with influences our behavior and values. Encourage your child to form friendships with honest individuals. Honest friends can serve as positive role models and reinforce the value of truth-telling. Talk to your child about the qualities of a good friend, including honesty, and help them seek out those who share these values.