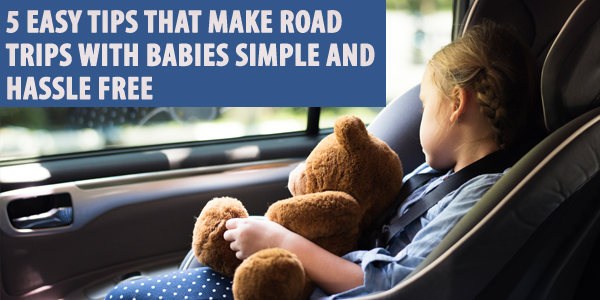 Road trips with babies was unthinkable for the parents of the previous generations. But today, baby care products and better transport facilities have made road trips with babies quite hassle-free. But of course, when there's a baby involved, there's planning involved In this blog we give you some travel tips for road trips with a baby:
Packing

: You might want to make a list with all the things you need to pack just so that you don't miss out. Start with the baby care – Diapers, clothes,  toiletries, baby wipes, garbage bags, disinfectant wipes, spare outfits. Be sure your pack these in generous amounts (especially if you're driving to a remote destination) since you'll be needing them throughout.  A tip : calculate how many you need of the above and add ten! And of course don't forget to pack a lot of toys to keep your baby busy in the car!
Stack up on snacks!

A hungry baby is an angry baby. Be sure to pack  good amounts of healthy formula, breast milk, some fruits which you could make a puree of. 
Time your travel based on your baby's schedule:

Schedule your departure when nap time is around the corner. This will spare you the job of keeping them entertained in the car. If your child goes to sleep easily after waking up, you can leave at the crack of dawn, else if your baby loves staying active till nap time, leave just before naptime.
Keep blankets handy:

Make the back seat cosy and snooze friendly for your baby. With enough blankets and maybe the stuffed toy your baby likes to hold and sleep. Blankets also offer shade from the sun streaming in through the windows and serve as play mats, nap time comforters and mess cleaners, so be sure to pack a couple.
Look out for baby-friendly rest stops or sites

: Navigate through maps and find child-friendly places where you and your baby can get a relaxing break. Check out for apps that help you navigate such spots around your travel areas. Remember this is a holiday for you and your baby so be sure to factor in some time for fun.