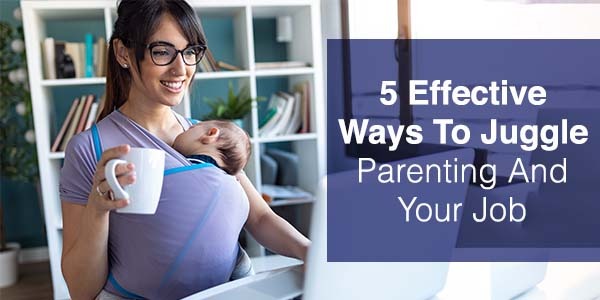 Life seems a lot lighter when you are newly married. Everything is love and bliss for some or pretending-to-be for some. Either way, both husband and wife would have been learning the coping skills in marriage when suddenly (or in some cases a bit late) the good news appears. "Congratulations, you are gonna be MOM & DAD!"
A child can bring a world of change, and most parents embrace it with joy and pride. During the pre-pandemic days, when daycare facilities were an option for working parents, the balancing act wasn't stressful. However, the new normal has set new goals and challenges for working parents. Let's take a look at five ways to simplify the juggling act of managing your work and parenting.
Flexible Plan
While most of you believe in work discipline, work from home demands flexibility. All those multi-taskers at the office are probably better at managing kids at home and working alongside. Prioritize your work considering your child's physical and emotional needs. If your child's nap time is the best for your meetings, ask your colleagues or superiors to reschedule it for you. There's no wrong in asking.
A Home Office
Children won't enter your workspace if you give them a heads up. Demarcate your home office and remember to give your child tasks at the same time you sit down to work. On the outside, it'll look like your child is working. He would love that feeling. Just that you know, it's one of his homework that doesn't need your attention.
Self Time
When you can hardly keep track of all your responsibilities, it's natural to get exhausted by the end of the day. When this mechanism peaks, you break down. Don't let this happen. Instead, consciously find time for yourself and relax in all possible ways. Deep breathing exercises, in between work breaks, works for some. Others opt for daily exercise routines to keep themselves stress-free and be more productive. Find out yours and make sure you stick on to it.
Ask For Help
Sometimes when you feel it's too much on your plate, ask your spouse for help. Even grandparents at home could help handle young children. They can take them out for a stroll in the park or play some interesting indoor games. Watching a cartoon with kids could be entertaining to them as well.
Imperfections Allowed
Do you consider yourself a perfectionist? Well, don't go overboard when things can work out in a relaxed manner. Learn to calm down when things are not going the way you expected. Nothing's going to fall apart if you do something less today and accept imperfections in its stride.