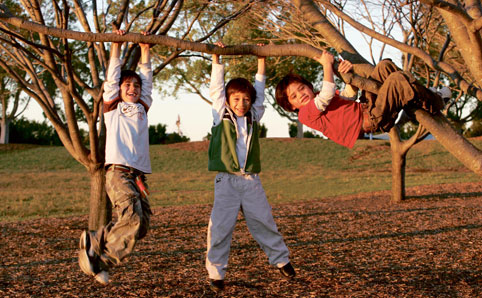 Weekend is here and here is your chance to spend some quality time with your children. Get your official work and your childrens' homework out of the way get set for a weekend worth remembering!
Outdoor activities can be a great way to bond with your children. Keep lethargy away from them with these great outdoor activity ideas:
Go on a picnic
Picnics have become rare nowadays. Earlier, it was one of the best things to do with your family and friends. People get together, eat good food, play some sports, have a gala time and go back home tired yet extremely happy.
Pack a picnic basket with yummy goodies like cakes, chocolates (let your kids indulge once in a while) etc. But don't forget the carrot and apples! Go some place where there is a huge open field, trees and maybe even a lake. Play games like frisbee, cricket, football or catch with your family. Invite your friends and your children's friends as well. The more the merrier!
Host a sports tournament
Gather all your neighbourhood kids and organise a sports tournament in your campus or  nearby park. It can be cricket, football, basketball or any other sport. Encourage the adults to join in as well. It is a great way for adults to teach their children about healthy competition and sportsmanship.
You can even invite other neighbourhoods to join in the competition. This way you and your children will make new friends. Have snacks and beverages organised (the whole locality can pool in) – you can buy food or have a potluck arrangement. Channeling your children's energy into the right direction will help them stay out of trouble!
Have a treasure hunt
Another fun outdoor activity you can organise for your children is treasure hunt. Plant clues all over your house and neighbourhood (make sure you supervise them). You can even place goodies after they discover each place – it could be something small like chocolate or a small toy.
Let the final prize be worth their effort. It could be a coupon to their favourite toy store, or a promise of a new bike, tickets to the new animated movie etc. If you planning to take your family on a trip, then treasure hunt could be a great way for them to find out this news!
Plant some trees
Get some saplings and start planting trees with your child. It is a great way to get your child closer to mother nature. This is one time when you won't mind your child getting all muddy and dirty – and they will love it as well!
And watching the tree grow will give them a sense of accomplishment and pride. At the same time you are doing something for the environment!
Go to a resort
Plan a day of fun with your entire family and take off to a great resort. Most resorts have arrangements for indoor and outdoor games including pool, badminton, table tennis, cricket etc. Pools are always the highlight of every resort – and kids love playing in water! Play water polo or have swimming competitions.
Campfires are also a great way to spend some quality time with your children. Tell stories to each other and make them animated!
Nothing is as rejuvenating as fun weekends with your children!