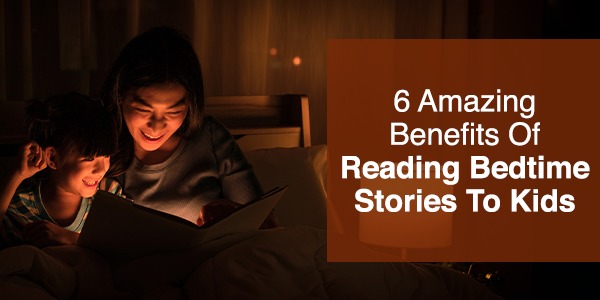 At night, just about bedtime, under a warm light, open a storybook to read out to your child, who eagerly waits to imagine every plot back in his mind. It's not just about sowing the seeds of imagination but also about spending quality time with your child and relaxing him up when he's ready to drift into a good nap.
Travel back to your memory lane to recollect story time with your grandma or grandpa. What pulled you to your grandma's room for more stories? Was it the narration or her loving warmth while sharing a chapter of mythology or folklore with you? Or was it the thrill to know what came next? Reading stories to children is a holistic learning process as it helps them think, visualize, question, reason, and create or recreate. Here are some of the benefits of reading bedtime stories to kids.
Time With Their Loved Ones
Children would cherish the special moments they spent with their parents or grandparents. At the end of an eventful day, when they have their parents around, they feel cared for and confident. Bedtime stories are a great way to build a bond. The more time you dedicate, the more grateful they will grow up being.
Imagination
To imagine is fun. It is this element of fun that builds creativity in children. Allow them to ask questions and encourage free thinking.
Reasoning
Moral stories teach children valuable lessons. Children learn to reason events or behaviors as they grow by connecting messages from the stories they loved listening to.
Vocabulary
Reading out stories to children is a great way to introduce new words. They learn words faster when a plot or context is interesting.
Motivation
Be it superheroes or characters who struggle to come up in life, success can influence children positively.
Concentration
You can observe your child's ability to concentrate and improve concentration by asking intriguing questions at the end of a story.