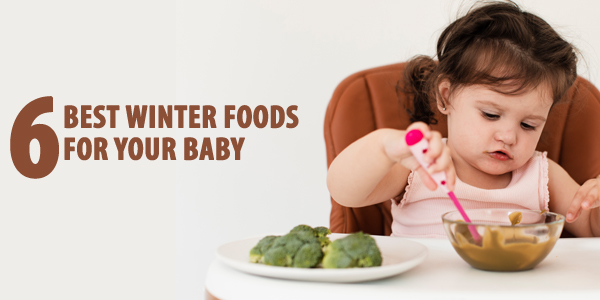 It's winter and your baby needs all the warmth and nourishment you can give. Here are 6 winter super foods that will keep your baby healthy and fit and free from cold and flu.
Dry Fruits:

Dry fruits give your body and mind a nutritious punch. They improve immunity and body strength. Spice up your toddler's milk with the aroma and rich flavour of some nuts and your kid will find it tough to refuse it!
Garlic-buttered Broccoli:

When winter comes, make sure you're stocked up on butter and ghee! These greasy buddies will keep your child warm and make a vegetable as bland as broccoli yummy! This is a complete win-win recipe, you get your child to have veggies and your child really won't be able to say no! Garlic butter is a great add on, garlic is known for its anti-inflammatory properties and keeps your little one free from cold and flu.
Soups:

Lentil soups make for a wholesome meal, not to mention they are really tasty. You can add vegetables(if your kid is not too averse to veggies) to make it more nutritious and filling. Lentil soups are packed with protein and make for great winter evening appetisers. 
Badam Halwa:

Does your little have a sweet tooth? Badam halwa made with rich and pure desi ghee will be a hit with your kid! It keeps the body warm and stimulates a smooth digestive process. Being rich in proteins and carbohydrates, almonds are a great source of strength and energy.
Methi Paratha:

This is the tastiest way to introduce iron-rich fenugreek or methi leaves to your baby. You can add some cucumber, capsicum and onions to make it a filling wrap. And of course, as a bonus, you add some cheese gratings or butter-tasty and healthy!

Mixed Vegetable Khichdi:

Generally khichdi is associated as the food for the sick but if tasty, ghee filled vegetable khichdi is devoured on a regular basis, you may never have the 'sick' excuse to have this nutritious dish! In other words, you'll never fall sick. This is the one dish that imbibes the goodness of vegetables like carrots, beans, peas and cauliflower and keeps you healthy, fit and energetic!