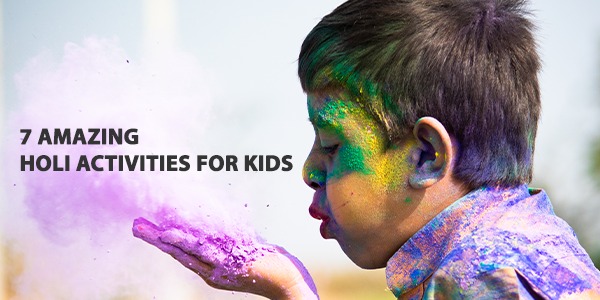 Holi is one of the most fun, messy and exciting festivals celebrated in India. With so many colors, water guns, sweets and good vibes it surely is an unbeatable combination of enthusiasm and warmth.
There are plenty of ways to celebrate Holi, but kids always look forward to new and exciting ways to do things.
So here are 7 amazing Holi activities for kids to get them rolling for this colorful festival:
Colorful Holi Cards
Kids love making greeting cards and you can make this activity more fun by joining them in preparing cards for other family members. Take an empty straw, water colors, ink and start blowing the colors on the paper. You can later cut the paper to make it look neat and tidy. This activity will get some Holi feels on a card!
Make organic colors
This can be the most fun activity for your munchkin. And, don't worry, it's super easy too. Use wheat leaves, amla, henna, turmeric powder, red rose or beetroot to make organic colors. For yellow color, sieve 4tbs of gram flour in a large bowl, add 1tbs of turmeric powder and sieve the mixture 2-3 times to get a nice fine yellow colour.
Paper Pichkari!
Paper pichkaris are adorable and fun to make. They can also make way to your showcase. You can make these pichkaris with quilling paper or use a cardboard tube and straws. Just browse the internet and you'll get plenty of options for how to make them.
Cook sweets
Holi is incomplete without sweets! And, kids love sweets, but the process of preparing is even more lovable for them. So go ahead with those guijyas or gulab-jamuns and let your little ones help with stirring the batter, kneading the dough, or shaping the sweets.
Fill in water balloons
Just say "water balloons" and your pumpkin will start jumping and dancing all over the place. Kids absolutely love splashing and playing different games with water balloons.
Leaf painting
Grab a plain white paper and some fun, unique leaves from the garden. Next, dip the leaves into paint and go nuts printing them all over paper. You'll be amazed at how this ends up looking! Aslo, this is a great way of bringing nature into your Holi celebrations.
Holi T-shirt
Take an old plain t-shirt of your bub and give them complete freedom to channel their imagination, creativity, and love for colors on it to create a DIY Holi t-shirt. With this activity, you can be rest assured to get them interested in the festivities!
Can you think of some other fun Holi activities? Share your ideas in the comments below: