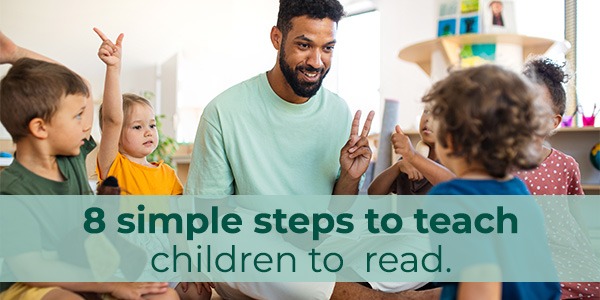 Did you know that kids who read 20 minutes a day are likely to score better than 90% of their peers on tests and have exposure to 2 million words per year?
Reading out stories to your children sparks creative imagination. Primarily your narration creates a mood, and secondly, it builds curiosity in your child's mind to find out what comes next.
We all know that no two children are alike. But creating an environment to connect words and their meaning instigates independent thinking at a young age and helps develop their viewpoint as they grow. Here are eight simple ways to teach your children to read.
Phonemic Awareness
It's the relation between letters and sounds. Phonic rhymes can help them grasp the connection between letters and sounds better. Repetition and practice can get this right for children. Slowly attach a string of phonic sounds to make simple words. It's preferable to start with small words that interest them.
Big Illustrations
Fill your child's room with colourful illustrations of words that they might frequently see in a couple of books. Familiarise them with the words so that they feel confident. Remember to keep changing the illustrations as they learn. Keep the fonts big and bold.
Read Together
The job of teaching your child to read doesn't end with placing picture cards with words in their rooms. Read along with your child and ask questions about what the child observes in those words and the illustrations.
Read Aloud
When you read aloud, children improve their vocabulary and listening skills also. However, ensure what you read out is correct. Encourage your child to read aloud along with you, so it becomes a method of effortless fun learning.
Familiar Words
Generally, children have a good vocabulary base. Learning to read words they are already familiar with makes reading faster and easier. Ask them to recognize the sounds of letters and connect them to form words. Though a bit challenging in the beginning, it's worth the effort.
Books
Books open a world of exploration and discovery. Take your children to a library or buy them books that catch their attention. As they flip through pages, they should discover or connect their previous learnings in a way that builds curiosity. Be mindful to appreciate their winning moments.
Role Model
Children often mirror adults. If they see you read, they too would grab a book or comic and sit down to read. When you observe this, ask them about the best part of the book. You can encourage next level reading by getting books in the same series for a higher age group.
Learn on the Go
Whenever you have an opportunity to be with your child, for example, while driving them to school or a walk together, try to recollect names of things or characters from a recently read book, magazine or movie. It will create an interest for casual interactions with parents. Sometimes they might even go back and check for better understanding for future chats. The key is how intentional you are in helping your child develop their calibre.