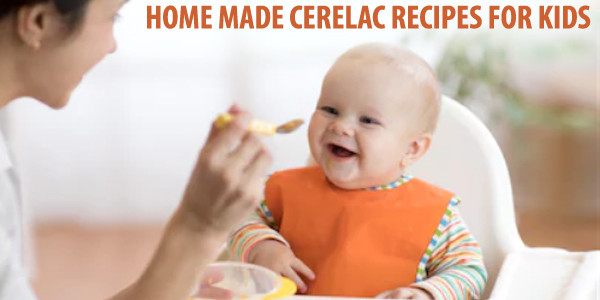 Worried about what you are giving your baby is nutritious enough or no? Well, the store counters are bursting with food choices for your little one but how do you know which is the best & most healthy food for your baby? When you trust no one, trust yourself. Homemade cereal has been consumed by babies for generations; before  Cerelac. Preservative-free and fresh, this recipe is a healthy & tasty alternative to the ones sold in the market.
Here are the ingredients which make this recipe a highly nutritious cereal:
Known as a super food, the ragi millet, bajra, wheat, corn & red/brown rice with additional dry fruits like cashews, almonds, peanuts & pistachios are the main ingredients of this recipe.
Ragi: High in natural iron content Ragi prevents anemia and malnutrition. Sprouted ragi is rich in vitamin C.
Bajra: Rich in antioxidants, proteins, vitamins & minerals, this gluten-free millet  is very easy to digest too!
Corn: This low carb veggie is rich in fibre and stimulates smooth digestion. Highly rich in folate, corn also promotes healthy vision.
Brown rice: Rich in fibre, it's the best addition to your baby's cereal if your baby is suffering from constipation. It helps maintain rapid growth cycles and is easily one of the most baby-friendly foods; very rarely are babies allergic to brown rice.
So, now you know what makes this cereal naturally & extremely nutritious recipe.
So here's the recipe:
The other ingredients
Green Gram – 1 cup
Chana Dal – 1 cup
Fried Gram – 1 cup
Urad Dal – 1 cup
Almonds – ½ cup
Cashews – ½ cup
Peanut – ½ cup
Pistachios – ½ cup
Cardamom – 2 pods
Step 1 – Soak all the grains i.e. Ragi, Bajra, Wheat, Corn, Green Gram and Chana Dal overnight and sprout each of them separately.
Step 2 – Now sundry the sprouted grains or you can dry them under a fan, as convenient.
Step 3 – Chop the dry fruits very finely and roast them slightly with little ghee in a wok. Keep the roasted dry fruits aside and allow it to cool.
Step 4 – Now light roast the grains one by one. Keep a watch and do not let the grains burn.
Step 5 – Mix all the ingredients with the cardamom.
Step 6 – Grind all the ingredients together and make a powder. Store it in an airtight container.
This powder can be stored in an airtight container for months at a dry place.
Make sure you use a glass container to store the powder, plastic is not good in the long run.
Tips to make it even yummier!
Sweeten with sugar or jaggery.

You can make porridge with this cereal, using boiling water and & milk; add more milk for consistency.

To add natural sweetness to the porridge, you can use dates syrup or raisins puree.

If your baby has a liking for fruits, banana, apple, chikoo or mango are great add-ones.