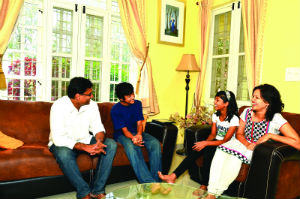 Namrataa is a certified Life Coach and Founder of Life Beyond Motherhood. She specialises in coaching mothers on finding their life balance. She can be reached at namrataa@lifebeyondmotherhood.com.
She also blogs at http://worldofmoms.wordpress.com.
Gone are the days when one would say, 'there is no school which teaches parenting' because there are such schools that are functional and in demand now. However, not all of us might be inclined to learn about parenting and we might want to discover things along the way. Well, to each their own. Parenting is a unique journey which each of us must traverse for ourselves. Then, of course, there is the child – a result of the parenting that is doled out. If the child is a result of the parenting received, I often wonder how a child processes information that he / she receives which might sometimes be contradictory. For instance, one parent likes to binge on junk food while the other is on a health trip or one parent believes academics are the way to success in life while the other might think academics are really quite irrelevant in the long run. So what does the child believe? Research has proven that when presented with two scenarios, human beings are more likely to pick the one which presents an easier path. The easier path that gets chosen, may not necessarily be the best path for the child. Does one parent work on undoing the path that he / she does not want the child to follow? It can all become quite a mesh and at the end of it all, can leave the child unsure about his / her choices in life and have a lasting impact on his / her self-confidence.
So what does one do? The answer is similar to what organizations resort to when they want to cascade a certain culture – 'Alignment'. Well, it might sound unrealistic, but think of it this way. Culture Alignment, in an organization, is meant to get employees to align their own objectives with the organization's objectives. Similarly, parenting needs alignment too. Communication is key to any kind of alignment. If parents end up arguing about how they do things differently, the child is at a loss. If, on the other hand, parents are able to discuss about how to handle a particular situation and how to provide the child with consistent messaging, the child would be clear about what is acceptable and what is not.
There are certainly divergent views that exist. More often than not, I would say. In such cases, agreeing on dividing up roles and responsibilities helps, with the agreement that messaging would remain consistent. It is like being a leader in an organization. At any point in time, one needs to uphold the organization's interest. One cannot promote one's own beliefs over an organization's culture. The organization in this case, is the child.
Making time to reconnect as a couple is important, especially after having a child. Making time to discuss parenting is equally important too. There is, after all, a human being each of us parents are responsible for; someone who will soon grow up and mirror everything that he / she believes the parents stand for. Are we aligned on what we stand for, together?
Re-published with permission from the blog of ParentEdge, a bi-monthly parenting magazine that aims to expose parents to global trends in learning and partner with them in the intellectual enrichment of their children.