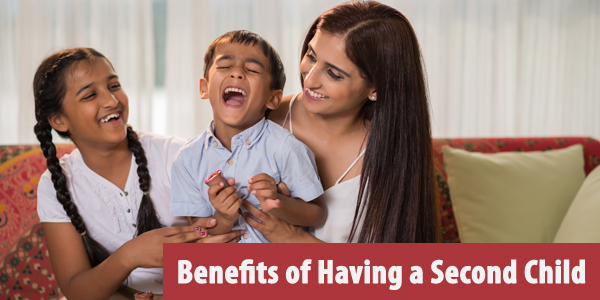 As a parent deciding on whether to have a second child there may be numerous questions concerning this decision running through your mind. While on the one hand, the thought of having an addition to your family will be filling you with joy, on the other you will be having your own doubts and concerns. While it is natural to be concerned about the many challenges of raising two children the fact remains that there are also many benefits of having two children. Here we have listed out these benefits which you can take into consideration when making a decision.
Creates a Lifelong Bond
"Sisters and brothers are the truest, purest forms of love, family, and friendship, knowing when to hold you and when to challenge you, but always being a part of you." – Carol Ann Albright Eastman
This quote is so true, for siblings (in spite of all their fights and arguments) represent the truest and most enduring form of love. They will be there to stand up for each other in times of need, protect each other through trials and tribulations and rejoice in each other's happiness.
Closest Confidant
When children are able to wholeheartedly confide in their family, it helps build a feeling of security and a sense of confidence in them. During the initial years of growth of a child, parents are their closest confidants, however as they progress into their teenage years it is the sibling to whom they turn in order to share their hopes and dreams, seek advice and also confide their secrets, in other words, siblings become each other's support system.
Learning to Share
 A very important advantage of having a sibling for your child is that they learn to share their toys, books, food, etc with their sibling which they otherwise would not be required to do. Even though children learn to share with their friends while in school, it does not compare to the level of sharing, caring, empathy, and mutual adjustment they learn while at home with their sibling.
Playmates and Co-Conspirators
As a parent, you will need to worry less about keeping your child entertained when they have a sibling. When your second child reaches a certain age they automatically start playing together with their older sibling (either with toys or games like hide and seek, hopscotch etc). Even when they grow older they partner together to play sports, online games and also watch movies and favourite television shows.
Easier for You 
As a parent, you will now have more experience and confidence in relation to feeding, nap times, diaper changes etc. Even though you now have to manage your time between your two kids, the uncertainty you had with your first baby won't be there and that will definitely make it easier for you. 
While we have listed the benefits here, as a parent there will definitely be numerous other considerations you will be looking at before making your decision and we wish you the very best in this.