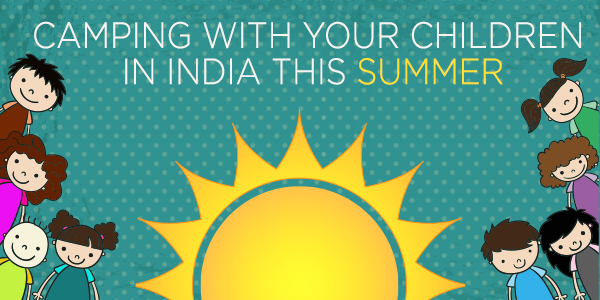 Summer vacation brings back memories of lazy afternoons spent stuffing ourselves with mangoes, playing in our grandparents backyard, a lot of TV and a book or two. Fast forward to 2015, and summer vacations come so action packed, there's no time to be lost!
Brimming with a sense of purpose, parents like to send off their kids to eco-friendly summer camps, where they not only learn about team work but also stay close to nature and learn about its delicate balance.
So we decided to put together a list of camping spots in South India for you that are child friendly!
Vanamitra
Primarily an NGO, Vanamitra started off as a rescue and rehabilitation service for wild animals. And soon they were holding one day camps for children of all age groups to make them aware of the wild life and their rehabilitation around us. Here children are exposed to a variety of flora and fauna and also learn to understand the signs and marks left behind by the animals. They are also introduced to reptiles and other small wild animals. Basic survival skills are also a part of the module.
Children are taken to the dense forest in Kerala, Tamil Nadu and Karnataka. These include Rajiv Gandhi National Park, Bhadra Tiger Reserve and Kudremukh National Park.
The Gerry Martin Project
A 5 day residential program, this one is very serious in its approach. Started by Gerry Martin, a noted herpetologist, it is open for children between the age group of 9-19. Children learn about rainforest exploration, surviving in the lap of nature, nature photography, introduction to reptile and bird ecology.
The work is conducted in forests of Mudumalai and coffee estates of Chikmagloor.
Center for Rainforest Ecology
Enroll your child for a course in mini herpetology under the watchful gaze of Gowri Shankar, a herpetologist himself. Camps can range upto 15 days and are conducted in the forests of Agumbe. Children are taught to find reptiles and amphibians in their natural surroundings, to identify different species and handle reptiles.
One of the most interesting activities in the camps are the night walks to find nocturnal life in the jungles.
Frolic Boonies
Frolic Boonies, based in Bangalore, organize residential Wildlife camp for kids aged 8 to 17 at Mudumalai during summer, near Ooty. It is an excellent opportunity for kids to enjoy their summer vacations. Little participants get hands on experience to explore various kinds of wildlife, which in turn help them develop love towards Nature and Wildlife.
We are totally supportive of such non-competitive camp environment where kids learn to work cooperatively as well as care for and nurture themselves. New friendships, lasting memories, and a foundation for health and well-being are created in each of these camps.