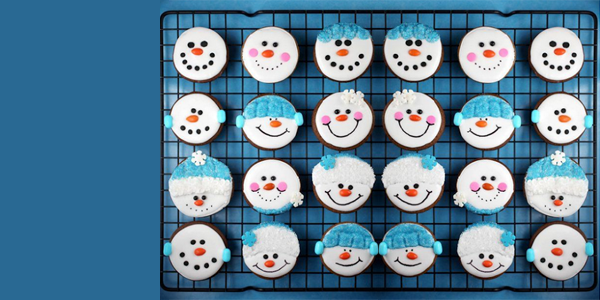 A brilliant way to make the most of Christmas vacations is to engage your children in making homemade gifts for relatives and friends. Homemade gifts are a message that the receiver is important enough for you to spend time thinking of a gift idea and making it yourself. We've put together a few easy to make recipes that will be fun and make an ideal homemade gift.
Nothing gets pre-schoolers going like a mashable play-doughy type of material to squish between their fingers. Now imagine if you could get them to use something like that to make ginger bread dough that is edible! Sounds exciting, doesn't it? Let's begin!
Ginger Bread Cookie Dough Recipe
Sift ½ cup sugar, 2 tsp each of baking soda, cinnamon powder, allspice and powdered ginger with 1 tsp salt and ½ tsp each of clove and nutmeg powder in a bowl.
Add 250 gms of butter (soft at room temperature) to the above mixture and work it with your fingertips. When the butter is fully incorporated, mix ¼ cup of honey and ¼ cup of dark molasses into it and stir until fully blended.
The dough should pull away from the bowl, if it is sticking to the bowl, you could add flour to bring it to a play dough like consistency.
There, it's playtime! You could decorate it with raisins, candies, cashews, etc. If you have cookie moulds or cutters, bring them out for added fun.
It is an excellent sensory play and very tasty dough that can now be baked in an oven for 15 minutes at 220 degrees. Pack it into cute boxes for gifting.
Snowman Cup-cakes
These cute looking cup-cakes make a great Christmas gift for all ages. You could even stack them in a tray and take them with you to a party. They are guaranteed to disappear fast! Of course, they are super easy to make with your kids. Remember to let them lick the batter bowl and spoon.
Take any premixed mud cake mix and prepare as per instructions. Now fill it up into the cup cakes mould till 1/3 level. Bake for 20 minutes at 200 degrees and keep it to cool.
Now pick up a vanilla icing packet and prepare it as per instructions. Slather it on smoothly over the cooled cupcakes.
You could also get edile blue glitter to make the snow man's hat as shown in the picture.
Gather smarties, gems, candies and candies almonds. Now ask your children to decorate the cupcakes by making, eyes out of the smarties, nose out of candies almonds or candies and candies. Sprinkle blue glitter for the hat.
The snowman cupcakes are an instant hit and easy to make. Stack them in a gift box and ask your children to present it to family and friends