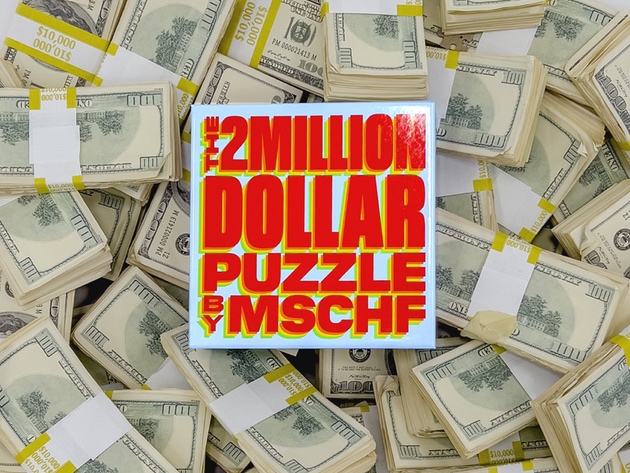 We have all solved puzzles at some point in our lives as kids, adults or both. While the satisfaction of completing a puzzle itself is great, imagine if you could win real money for completing it! Yes, you read right. You could win upto $1 Million by completing this 500 pieces puzzl by MSCHF. So this quirky puzzle gives you the fun of solving it and 2 of them could have $1 Million each in them.
Solving a puzzle has never been more alluring. Created by MSCHF, a quirky company designed to bring you up to speed on the latest viral contests, products, and apps that the collective has created, this exciting opportunity brings you the chance of winning anything from $1 to $1 million per puzzle. The mystery aspect brings excitement, and the best thing is you'll at least win something. There are absolutely no losers in this compelling contest.
So how does it work? You put together the puzzle by yourself or with your family and friends. However one person will have to claim the prize. Upon completing the puzzle you will see a giant QR code which you have to scan and your winning amount will be revealed! It's really that easy!
Rest assured each box contains an amount from $1-$1,000,000, and two boxes will contain $1,000,000! Once you find out your winning amount you will be paid by online check to your email ID or through physical check which would take 2-3 weeks to reach you. Please note that you have to be over 18 years and live in the US to play this game and claim your prize. You can also purchase 2-packs or 4-packs to increase your odds of winning!
Purchase your 2 Million Dollar Puzzle for only $30 today and get the chance to win big. Remember, you'll be a winner no matter what, so it's a win-win. Take a chance and see if you are the winner of the precious million-dollar prize!
Buy Your 2 Million Dollar Puzzle from The Bril Store!
*Prices and offers are subject to change
Bril earns a commission for all products sold through www.thebrilstore.com
customer service handled by StackCommerce