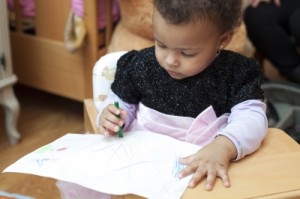 So, your child does not sit in one place when it's time for homework? Let us rewind back to the time when the child was a toddler. If you spend a fair bit of time with the child early on, reading, telling stories, writing or just listening as the child was trying to piece sentences together, chances are, you are not going to have to deal with this problem later. If you have been able to get the child into a routine of reading or any other form of age-appropriate learning, the love for learning has in all likelihood, already developed. The child now sees 'studying' to learn new things as a way of life and does not find it a chore to sit for completing homework.
The more involved a parent is in the child's everyday efforts at learning something new, the more likely the child might be to take to learning naturally. Being appreciated for learning a new thing fosters the will and ability to learn more.
So, how does one inculcate the habit of 'homework' even though there is no homework when the child is in pre-school? Here are some tips for parents to experiment with:
a) Invest in Workbooks: Not all parents are internet savvy and not all might want to download worksheets from popular websites or from the school portal. If you are one of those, invest in buying some good workbooks from book shops. Sit the child down everyday, at least once a day, even if it is for 15 minutes and get the child to complete a set of chosen pages.
b) Allow the child to choose: Dictating the routine is important but dictating what a child needs to study when is not critical in pre-school. Allow the child to choose one of a few types of things to do. You might be surprised how soon a child's talent for words or numbers is apparent. Encourage the child by awarding stars or paste stickers to acknowledge a job well done.
c) Make learning integral to everyday activities: Holidays don't have to mean no workbooks. There are times when holidays are packed with social visits but then there are some when the child has ample time. Weekends can be fun learning time when the child is experimenting with cut vegetables or fruits or flour shapes or other such indulgences that need a lot of time and hence are tough to manage on a weekday.
d) Make every travel a learning experience: We learn a lot while traveling. It is important to make that learning process conscious for the child too. Every travel can include an opportunity to play games that are portable and fun.
e) Be excited about learning: If you catch yourself making statements like 'No homework today! Yeah!', you are indeed, making a child believe that getting homework is not cause of celebration but lack of it is. Who then, is, instilling the feeling in a child that homework is unwanted and is a burden?
A child learns best via role modeling. Love to learn and a child will follow suit.
Re-published with permission from the blog of ParentEdge, a bi-monthly parenting magazine that aims to expose parents to global trends in learning and partner with them in the intellectual enrichment of their children. This blog was written by Namrataa Arora Singh. After 14 years of working as a Talent Development expert in the Corporate world, Namrataa Arora Singh decided to re-invent her career. A Certified Professional Coach (CPC) from the International Coach Academy (Australia), Namrataa has been coaching women across the globe for the last 6 years. 
Image Source: [freedigitalphotos.net]