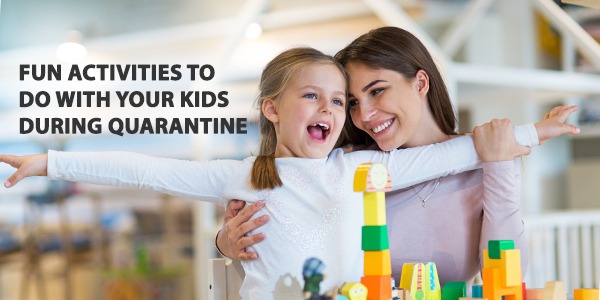 With the entire nation under lockdown, the challenges for both parents and kids have now added up. The kids are stuck to mobile, iPad, TV or phone all the time and the parents are trying to make the ends meet by handling work, meals, kids and other numerous activities.
The times are not normal but this too shall pass! But, on the bright side now you can hug and kiss your munchkins any time you wish. No classes, school, outdoor activities- they're with you for the entire time.
And, to make this time more interesting we've come up with a list of fun activities you can do with your kids during quarantine. These are all screen-free activities because we firmly believe that too much screen time can hamper your cupcake's creativity.
Also, the American Academy of Pediatrics recommends avoiding screens for children younger than 18 to 24 months for preschool children, ages 2 to 5, to just one hour a day of high-quality programming is enough.
So here's what all you can do:
Play hide and seek. Encourage your little ones to run around the house and find you. You can even include the pets in this game.
Bake together. Cakes, cookies, brownies, just anything! Kids absolutely love kitchen activities.
Build a fort. Kids love this game. Gather all the blankets, pillows and sheets to build a giant fort!
Sing and dance. Put some fun videos on and start hopping, popping and locking on the beats.
Hula hoop. Compete to see who keeps the hula hoop going the longest.
Be creative with craft. Scrap-booking, collage making, origami, paper garlands, ice cream sticks house or painting the walls- encourage your kids to be creative and give them the liberty to come up with ideas.
Uno. Easy to play even when half asleep, keep this activity post-dinner.
Treasure Hunt. Everyone loves a treasure hunt! Hide clues all over the house and ask your bub to decode the hints.
Slime fun. Kids have a lot of fun with slime. Get tons of safe, borax-free slime online.
Face Painting. Cricket season is here! Paint each other's face with the favourite team's logo or colour.
Grow plants. Kids are amused to see how the seeds sprout into plants. You can start with cumin, coriander, chillies or tomatoes. Just choose a plant that is simple to grow.
Play Charades. Movies, songs, objects or names of family members- enact anything and everything around you to make the game more interesting.
Play board games. There are options like scrabble, Pictionary, ludo, snake and ladder, monopoly or chess.
Colour bath. Take random objects, leaves, your hands or toes and get its print on the paper.
Create a bowling alley. Use toilet paper rolls or cylindrical cardboard as bowling pins and bowl with a normal ball.
Encourage them to write. Writing is a classic way to pass the time. Encourage your bub to write letters to their grandparents or just their thoughts.
Craft hand soap. Making your own hand soap is super easy and fun. Go online and see how to do it!
What else do you think can go up in this list? Share your ideas in the comments below: