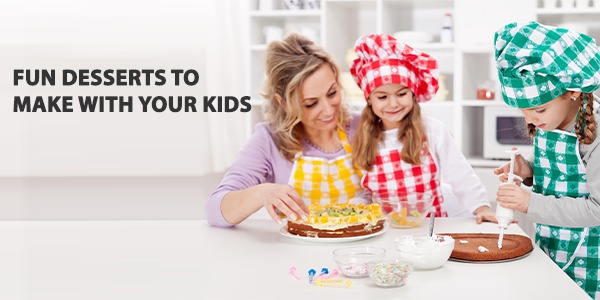 "Mummaaa.. I'm bored.. I've nothing to do.. Do you want to play cards?"
"Daddddyyyy.. Shall we go out and play something? Or we can also play cards!"
Helping kids fight boredom is undeniably the toughest job for parents. And, in the new normal, with no school and outdoor games, the toughness level of this job has just scaled up. But when kids get bored some really good stuff happens because then they start daydreaming. They start imagining the world they would like, or come up with new and exciting ideas- like a world made up of chocolates or gingerbread! In short, your munchkins will become more creative when they're bored.
So at times, you can just ignore this phrase and at other times you can come up with fun ideas or involve them in your activities. To help you with ideas, this week we're covering fun desserts you can make with your kids. Read on to know what could go up your dessert plate:
Coconut Ladoos
A popular Indian sweet recipe, ready in 10 minutes and perfect for you and your little one to have some fun!

Ingredients:
Coconut powder
Condensed milk
Cardamon
Instructions:
Slightly roasting the coconut powder for a minute
Just mix all the ingredients together
Shape and enjoy
Yes, its that simple!
Gems Fudge
Fudge is a fun and delicious treat for every occasion. Check this super easy recipe of gems fudge:
Ingredients:
400 g milk chocolate
395 g condensed milk
180 g gems
Instructions:
Chop the milk chocolate and heat it with the condensed milk in a medium saucepan for 10 minutes till it turns smooth.
Next, spread the mixture in a tin or big plate and sprinkle the gems over the top. Place the fudge into the fridge for a minimum of 6 hours to set. Enjoy!
Banana icecream sandwich
Ingredients:
200g peanut butter
175g sugar
75g dark chocolate
1 large egg
For the ice cream
3 bananas, chopped and frozen
2 tbsp double cream
1 tsp vanilla essence
Instructions:
Take the peanut butter, sugar, ¼ tsp fine table salt and chocolate chunks in a bowl and mix it. Crack in the egg and mix again.
Place small chunks of dough on a tray and bake for about 15 mins until they change color.
Put the bananas, cream and vanilla and blend until they make a thick ice cream.
Scoop into balls with an ice cream scoop, and sandwich between the cookies. Woohoo!! Your icecream sandwich is ready!
Chocolate mousse
Rich and creamy, yet light and fluffy, this tiny cup will leave you and your bub wanting more.
Ingredients:
180 g dark chocolate
4 eggs
250 ml cream
fresh raspberries / strawberries
Instructions:
Beat egg whites and set aside.
Melt chocolate and add the egg yolks, combine thoroughly and allow to cool for about 15 minutes.
Meanwhile whip cream until it turns thick, pour in the chocolate, egg mixture and egg white and mix until combined.
Pour into serving glasses or bowl!
Mugcake
This is the easiest and quickest dessert recipe ever! A chocolaty fudgy treat perfect for your little bundle of joy.
Ingredients:
⅛ teaspoon baking soda
⅛ teaspoon salt
3 tablespoons milk
2 tablespoons oil
1 tablespoon water
¼ teaspoon vanilla extract
¼ cup all-purpose flour
¼ cup white sugar
2 tablespoons unsweetened cocoa powder
Instructions:
Mix all ingredients together in a cup
Cook in microwave until cake is done in the middle, about 2 minutes.
That's all! Do you have some recipes that could go up in this list?