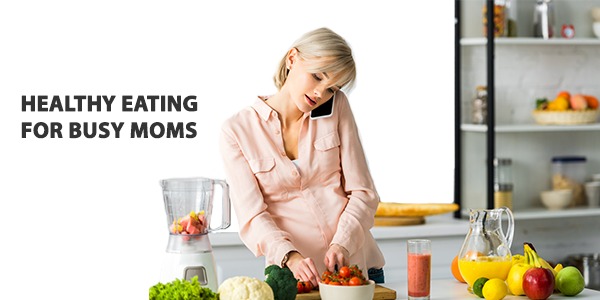 "Let us order food or grab something from the nearby restaurant." With kids not going to school, back to back office calls and management of those zillion things at the same time; this sentence comes like a saviour for busy mamas.
While there's nothing to be guilty of, with a little bit of planning and management you can make your way towards eating healthy instead of usual pizza, burger and other junk. Studies suggest that a healthy diet helps to protect against malnutrition in all its forms, as well as noncommunicable diseases (NCDs) such as diabetes, heart disease, stroke and cancer.
Even in fitness regimes nutrition plays a huge role. A 80-20 rule is followed in which it is believed that 80% of effort should go in eating healthy and 20% in different workouts. Both nutrition and exercise compliment each other and neither can do anything without the other.
And, to help you stay fit and fine, we've got some simple and healthy eating hacks that you can prepare in a jiffy:
Breakfast:
Breakfast is the most important as well as the most neglected meal. Before you sleep just plan what to prepare in the morning. Some of thee options could be:
Oats. Boil a cup of water and put half cup of oats in it. As the oats start boiling put a pinch of salt and cumin powder in it.
Quinoa pudding. Boil quinoa in a cup of milk and top with it fruits or berries.
Hard-boiled eggs. Boiled eggs with berries or fruits on the side.
Upma. In a pan, fry chopped onions and later add a cup of sooji, salt and water. Enjoy the yummy upma!
Spinach banana smoothie. Take 2 bananas, a cup of fresh spinach leaves, blend them together and top with some Chia seeds.
All of these options are super-healthy, nutrient rich and easy to make.
Lunch:
Dal. Dals are hands down the best option for lunch. Packed with proteins they give you energy and strengthen your muscles. Take any dal of your choice, boil it and eat! Easy, isn't it?
Sprout salad. Take a bowl full of sprouts and top them with salt, pepper, cucumber and tomatoes!
Curd rice. Mix a bowl of rice with a bowl of beaten curd, add some salt and enjoy. This is an amazing meal to beat summer heat.
Mashed potatoes. Bring a pot of salted water to a boil, add potatoes and drain once cooked. In a small saucepan heat butter & milk and add the potatoes to it. Season with salt and pepper to taste.
Evening Snacks:
Chia seeds
Fox nuts
Almonds
Pumpkin seeds
Watermelon seeds
Hemp seeds
Flax seeds
Sunflower seeds
Sesame seeds
Dinner:
Ideally, you should be eating a very light dinner. It helps prevent obesity and high blood sugar by burning more calories.
Khichdi. Cook half cup of both rice and yellow mung dal with salt and cumin powder in the cooker. After 3 whistles your khichdi will be ready!
Steamed veggies. Just toss your choice of veggies together and put to steam. Super healthy, light, quick and easy!