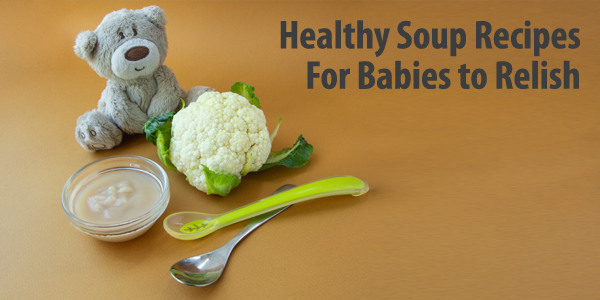 Winter is already here!
And, it is undoubtedly the most wonderful and fun time of the year- with snuggly blankets, steamy hot cocoa, warm socks, cosy fires, festive vibes and super-yummy food this time brings a smile on everyone's face.
What better way to make this time more gleamy than a bowl of warmed up nutritious soup?
Soups are great food, not just for adults but for babies too. It provides your little cupcakes with:
striking vegetable intake
ample of nutrition
hydrating effect
medicinal value
Vitamin C which helps your little one to fight cold, cough, or the flu.
So here are a few super-healthy soups you can make for babies under 10 minutes:
Spinach soup
Spinach soup is packed with vitamins and minerals and can be introduced to babies from 7 months of age.
Ingredients
1 cup of freshly washed and chopped spinach leaves
1 tbsp of cheese/ cream
Salt to taste
How to Make
Boil spinach leaves with a bit of salt.
Let them cool, and puree them in a blender.
Warm up the soup and top it with cream or cheese.
Carrot and Beetroot soup
Carrot beetroot soup is a perfect soup option for your munchkin. It is loaded with vitamins that boost hemoglobin, make skin healthy and provide required fiber that aid in baby's growth.
Ingredients
2 freshly peeled and chopped carrots
½ peeled and chopped beetroot
½ tsp salt
½ tsp pepper
How to Make
Boil carrot and beetroot in a pan or pressure cook it for two whistles.
Let this mixture cool down and once done blend it in a blender.
Strain it and again bring it to boil for 3-4 minutes.
Now, add salt and pepper and stir it for a minute. Your yummy soup is ready to go into the tummy now!
Mixed vegetable soup
Vegetable soup is the best saviour for parents whose kids hate eating vegetables.
Ingredients
A bowl full of veggies of your choice
Salt
Pepper
How to make
Boil or pressure cook all the veggies.
Once cool, blend the veggies.
Add some salt and boil it once again.
Rice soup
Rice soup is an energy booster that is loaded with vitamins, proteins and starch.
Ingredients
2 tbsp rice
2 ½ cup of water
A pinch of salt
½ tsp pepper
How to make
Wash rice under running water and add it to a cooking pot or non-stick pan with 2 ½ cups of water. Let it cook on a medium flame and ensure to stir it occasionally.
Once it turns soft, switch off the flame and let it cool down for some time.
Now, mash the rice a bit with a ladle and stain it through a strainer.
Add salt and pepper to it and stir again. That's it, your rice soup is ready to be served.
Tomato soup
Tomato soup is an excellent source of antioxidants, including lycopene, flavonoids, and vitamins C and E.
Ingredients
1-3 fresh red tomatoes
Salt
Pepper
1 tsp of butter
How to make
Chop the tomatoes and boil them till it turns mushy. Blend the tomatoes once it turns cold.
Add some salt and pepper.
In the end, top it with butter for a smooth and delicious texture.
Lentil soup
Lentil soup is a good source of carbohydrates that keeps tummy full for a longer time. You can introduce this soup from the age of 6 months to the babies.
Ingredients
One cup of lentil of your choice
Salt
One tablespoon of ghee
How to make
Boil the lentils in a cooker until mushy
Add salt
Add some ghee on top for taste
While these are just a few recipes, you can come up with your own recipe that provides maximum nutritional value to your babies.