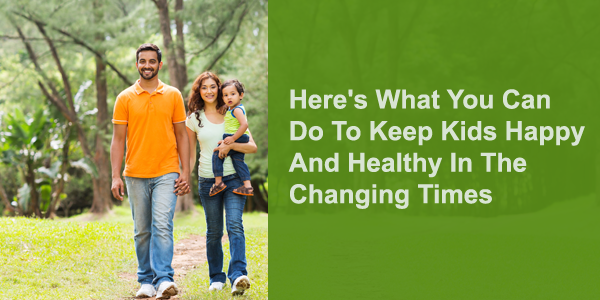 With you working from home, kids not going to school, no household help or social interaction; things could go out of control at times.  But with proper planning & organization, everything becomes easier and you can make the most out of these changing times. Here are a few activities and routine changes that you can implement to keep your munchkins happy and healthy in these changing times:
Teach and practice safety protocols. In current times, the most important thing is following protocols defined by WHO, ICMR, or the local authorities. 
Teach the kids importance of wearing a mask, washing hands and maintaining social distance by demonstrating personal hygiene and preventive measures.
Set a routine. As you enter the new normal, establishing a routine is of utmost importance. Set a routine not just for the kids but for yourself too. This will keep your biorhythm healthy and everyone will have something to look forward in the day.
Avoid worrying about screen time. Accept the fact that your kids are going to have more screen time in these times. While you're continuously feeling the need to stay connected with the outside world, your kids are feeling the same.
Help them in cultivating their passion. Everyone has some passion. Help your kids in recognizing and cultivating their passion without any judgments.
Encourage independence. Let the kids be. Give them the freedom to decide and do what they want to do.
Head out for a walk with them. Walking with your kid helps in improving his/her concentration, develops a sense of independence, improves mood and tones the whole body.
Arrange for virtual interactions. While it's easy for teens to be in touch with their friends, arrange for virtual playdates or fun online parties for your little one by connecting with other parents.
Give honest answers. Your kids might have several questions regarding the current situation. Answer every question honestly and simply.
Do gardening together. Gardening a great activity to bond over. It teaches toddler responsibility and helps them to plan and organize the plants and weeds.