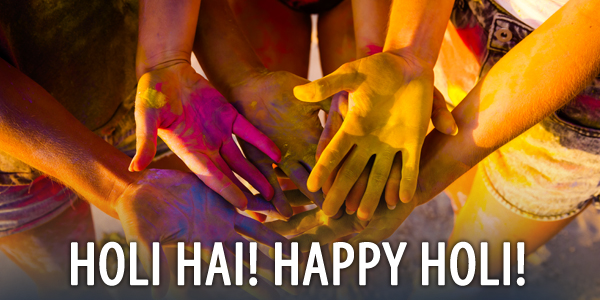 Holi, one of India's most colourful and joyous festivals is coming soon! Holi will begin on the evening of March 1st when people gather around a fire and the spend the night sing, dancing & frolicking. The fire symbolises the death of the evil demon Holika who tries to kill Prahlad, a devotee of Vishnu. This is called Choti Holi or Holika Dahan. They also chant prayers and perform other rituals around the fire, to ward off evil, if any, inside them.
The next day is the day of colours & water. People playfully throw gulal (colours)at each other and also use a funnel-like structure called pichkari to squeeze out water on others. This playful give and take with colours and water makes Holi one of the favourite festivals of all.
Holi falls between February & March and so is also known as the spring festival. Though an ancient Indian festival in origin, Holi is celebrated among communities in South Asia, Europe & North America; evoking the mood of spring, the mood of love, frolic & fun.
Among the states that revel in this festivals is Gujarat, Uttar Pradesh, in the north, & Bihar, West Bengal, and Assam in the east revel in this festival. There are some Southern states like Andhra Pradesh that celebrate Holi too, but much of the festivity remains in the north.
Lately, though, there has been much talk about Holi colours unsafe being for people and animals. Criminal wastage of water too, has been reported at many places. There have been people advocating for a safe and responsible celebration of Holi.
Ways in which you can play a safe & responsible Holi:
-Use eco-friendly, instead of those mixed with chemicals. In fact, you can make your own Holi colours by using Henna, Chandan & Turmeric.
-Don't throw colours on animals; it is harmful to them.
-Water is sacred and scarce in many parts of India; value water and avoid using too much water or water balloons. Traditional Holi did not depend too much on water.
-Play community Holi. choose a common open space/ground instead of private spaces which will lead to more wastage and more mess.
Bril wishes you and your family a Happy & Safe Holi!