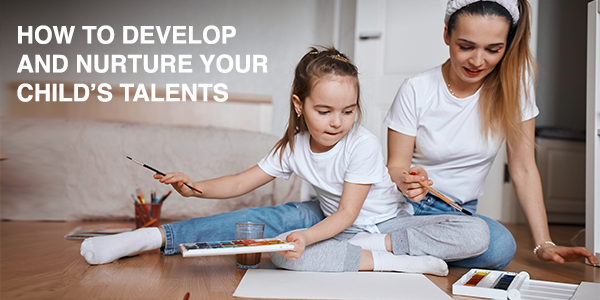 Children are unique, and each child is born with unique talents. Identifying them at a young age, and encouraging your child to nurture that talent to the best of their ability is what makes all the difference. Parents, teachers, and relatives are instrumental in helping to discover these talents and incorporating them into your child's life.
Even if your child doesn't turn out to be the next Mozart, the foundational benefits of learning a new skill can help them later on in life. However, you don't want to overwhelm them by focusing on too many different skills. Let us look at the various ways in which your child's talent can be developed and nurtured.
Observe Your Child
Children are naturally inventive and love to play around with or even create toys and games using different things they find around them. It could be their mom's scarf, a spatula, or a set of plastic containers which, when inverted, could be used as drums, etc. This is the time you must observe them closely. They may be totally engrossed in their world and sometimes even want to show you what they created or just did. Such inferences could be crucial in showing you where your child's interests lie.
Your next plan of action should be to encourage your child to explore more, by giving him or her more inputs. You can show them books or videos and even try things out together to create added interest.
No Pressure
Every child may not become a legendary artist, musician, athlete, or internet wizard. However, children who get parental guidance at a young age tend to fare better than those who don't. Look at Indian playback singer Shreya Ghoshal, who started singing at the age of four. By the age of 6, she started her formal training in Indian Classical Music. Today she is one of the finest singers in the country.
Whether your child is a Saina Nehwal or Viswanathan Anand when guided well to develop their talents without any pressure the chances of mastery are much higher.
Never Give Up
Commitment is an important characteristic to imbibe from a young age. Once your children commit to taking up coaching or classes it's important to make sure they stick to it, regardless of their mood. Pursuing arts or sports also adds to their character development. You may observe that children learn endurance, patience, and perseverance as a result. They will understand the value of never giving up till the end.
Learning anything is a never-ending process. The more your child works at it, the better he or she develops in all facets of life.