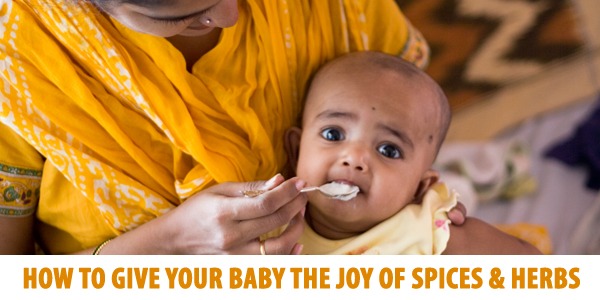 Have you ever thought about adding spices to your baby's food? Something stopping you from spicing your little one's food? Well, the good news is there's no harm adding spices like vanilla, cinnamon, nutmeg, basil, oregano or any other spice or herb your family has been cooking and eating. In fact, many Asian and Latino countries introduce their babies to spices which are very basic to their cuisine. So, if you're interested in doing the same with your baby, don't wait till toddlerhood and expose them to the delicious world of spices and herbs. Remember, they've already been introduced to them through breastmilk. Also, spices & herbs flavour up your baby's food without sugar or salt.
Below are a few examples of how you give them the best of the spice world:
If your baby enjoys fruit purees, here's how what you can do:
You can add a bit of zing to the apple sauce with cinnamon, vanilla, ginger. nutmeg, allspice.
For pears, cinnamon, a drip of vanilla & mint should do the trick and for bananas too ginger, cinnamon, vanilla & allspice should be a great addition.
Coming to vegetables, while sweet potato & pumpkin can be spiced up using the above spices, used for fruits, carrots can get tastier when baked with cinnamon. Mashed potatoes, the favourite food of all babies, can be made even more interesting with dill weed or garlic.
For cereals & grains, like oatmeal, rice (sweet) & quinoa (sweet) spices like nutmeg, vanilla, ginger, cinnamon, cardamom will do the magic. For oatmeal & other cereals, feel free to add fruits too.  Of course, if your child fancies Italian food, you can make give your pasta the extra zest with oregano, basil & garlic. In fact, quinoa (savoury) too, blends well with oregano, garlic, onion powder, pepper & basil.
For the ones with a sweet tooth, here's how you can master the sweet spice blend:
Make your apple & pumpkin pies irresistible with 3 tablespoons of the sweet spice blend.
1 teaspoon each of ground cloves, ground ginger, ground nutmeg, ground allspice and 2 teaspoons of cinnamon will get your little one's taste buds to tingle with joy.
Things to Remember:
Consult the pediatrician before introducing your baby to spices & herbs.

Make sure you don't use pure vanilla or other liquid extracts that contain high amounts of alcohol which are added for preservation purposes. Use an essence of vanilla(which isn't pure) or vanilla beans. You can use pure vanilla to foods that you're cooking or baking as the alcohol will cook off, but avoid adding any sort of flavoring to the baby's milk bottle or formula directly.