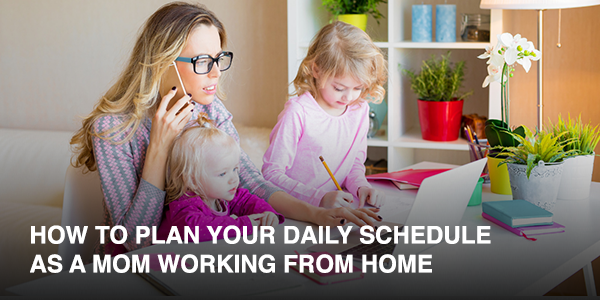 Work from home has become the new normal. For mums this offers a great opportunity to get some work-life balance and spend some quality time with your kids. However, a Mom's life can get monotonous unless it is planned and scheduled creatively.
Moms working from home have to be super managers as they need to manage home and their office work simultaneously. It is no child's play as it can be physically and emotionally daunting. A systematic routine will help you be more productive when working from home. Here are some tips!
Wake up Early for Quality Me-time
Waking up early in the morning is one of the most effective ways to find time for yourself. Going into a physical exercise routine in the morning energises you for the rest of the day. The peaceful ambience of early mornings, when no one else is awake, gives you ample time for inner wellbeing courses and learning something new. As an early riser, you will be surprised at the extra hours you have gained after completing your daily chores.
A Healthy Breakfast for a Solid Start
Breakfast is the most important meal of the day. When you eat healthy in the morning, you get the most needed nutrition intake for a busy day. It can be tempting to skip breakfast as you busily navigate through everything but this could be detrimental in the long run because the brain also needs nutrients.
Plan your chores
Setting a time for your chores such as preparing breakfast and doing lunch prep is extremely helpful when it comes to time management. With children around you should be able to take care of their needs in a timely manner. So, gliding into every activity with a breathe in-breathe out approach could ease the pressure on you. Taking things one step at a time is the best option.
Work Time
Once you are done cooking and cleaning, sit down for your work. Make sure your kids are occupied with activities providing you with a distraction free environment. With toddlers, you may have to get additional help when you are working. Completing your work during their nap time is a great idea. Usually, grown-up children rarely trouble working moms. If someone at home falls sick, you may need to make adjustments.
A Night Schedule
After dinner and family time, when the rest of the family is already asleep, you'll have time to sit down to plan for the next day's office tasks. It's important not to work too late into the night as your rest matters, not just for you but also the family. Try to shut down by 10:30 pm so you get a good sleep of 6-7 hours. Sticking to a proper sleep schedule helps rejuvenate your body and mind.
Take the Weekends Off
Working moms do double the work, so you deserve a much needed break on weekends. Make time to get together with friends if possible, and do not entertain office mails or calls that impede your much-awaited weekend. Use your Sundays to do meal prep and any long pending home shopping. With so much on your to-do list, there can be days when you land up doing nothing. Just come to terms with it and remember you deserve time off too.