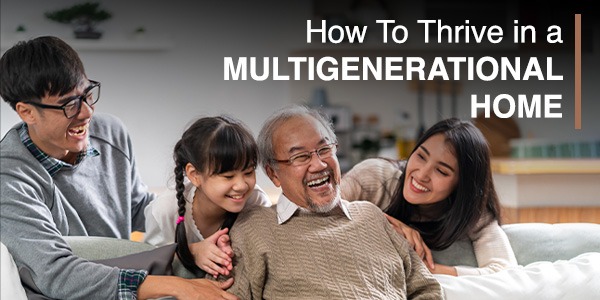 'Multigenerational Living' is a term for multiple generations in a family living together. Do we all know how to manage three or four generations under one roof? The answer could be a big 'NO' or 'Yeah, some minor hiccups are there, but managing to get along'.
There are advantages and disadvantages of living together as a multigenerational family. Check out some great tips to help you thrive in one.
Let Two-Way Communication Be the Ultimate Priority
Take Opinions
When making decisions in a multigenerational home, it's better to take your children's and parents' opinions. Before heading out to the nearby shop to buy things for them like cosmetics, personal hygiene products, toiletries, groceries, or confectioneries, by asking a question, you will get to know if things are already in stock and can avoid unnecessary expenses. Your parents would love such behavior. If at all your kids come up with pasta, burger, or pastry requests, then be ready for a Junk food vs Healthy food live master class from their grandparents. Wondering what next? Quietly sneak out!
Inform
Inform your parents about your daily and weekly plans concerning work, meetings, and your free/family time. Consider their opinions on crucial family matters so that they feel valued, and you'll be in a better position to decide. Make sure you seek opinion only where necessary, like attending a family wedding, meeting friends, eating out, or health checkups. Everything else, especially those about your children, should be your responsibility first.
Do Your Duties
There may be many aspects of child upbringing which you wouldn't want history to repeat. Live by example while choosing their school, spending time with them on their daily lessons, food and nutrition, health care, value systems, etc. Take your parents on a routine health checkup. Make sure they visit their trusted doctors and give them comfort from the inside. They appreciate it when you consider their choice. Your parents may or may not comment on the commercial side of your decisions. Clarify them if needed, or else certain things are better done than said.
Admire
Create an atmosphere where children are not afraid of their grandparents. A bonding between grandparents and grandchildren is often admirable because the relationship is more of care and protection.
Acknowledge
One of the advantages of multigenerational living is that your little ones would be in the safe hands of your parents during your busy work schedule. A little help in the kitchen, grocery shopping, and occasional babysitting would be a great relief. Surprisingly you may not even have to tell them to take charge of the situation. It comes out of experience and confidence. Acknowledge their efforts and make them happy. Little gestures of kindness and gratitude can melt the ice. Empathy really works, you know.