Learn photography, video and editing with these amazing courses, tools and gadgets.
Any average joe can point and shoot using their mobile phone camera, but it takes years of learning and failing to become a good photographer. We have worked hard to compile a set of photography/videography gadgets, cameras, courses and accessories to make your journey to becoming a great photographer a breeze!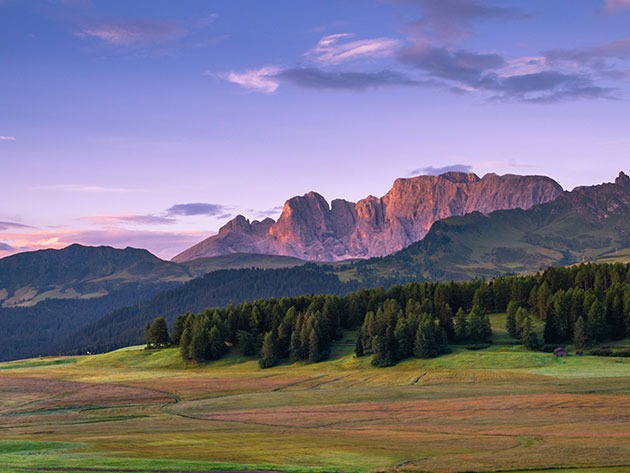 Sure, just about anyone can point and shoot with a camera, but only a true expert can snap a photo that's worth sharing with the world. From exposure to shutter speed and everything in between, this award-winning training walks you through the nuts and bolts behind capturing truly stunning photos. iPhotography is the leading online photography choice of Fortune 500 companies, schools, training institutes, and aspiring photographers worldwide, and it's easy to see why. Each of this course's 18 modules has been carefully constructed using LearnLock™ Technology and features personal mentorship from award-winning photographers along the way, taking you from zero to hero with your camera in no time.
A Fast Growth 50 Award-Winners in 'Fastest Growing Education Provider' and 'Fastest Growing International Business' categories!
Access 18 modules & 80+ hours of content 24/7
Get 1-on-1 mentoring from genuine pro photographers
Learn from a photo feedback gallery
Validate your training w/ a professional certificate of achievement
Learn from practical photography assignments
Utilize an extensive download library & bonus photography training/resources
Connect w/ a private community & world photography competitions
What is CPD?CPD is Continuing Professional Development. The CPD Certification Service is the independent body operating across all market sectors and in support of all professional institutions, bodies, and societies. Its certified CPD 'quality mark' is a recognized symbol of quality assured training. All these courses are CPD Certified and when you complete each course you obtain a number of certified CPD hours.
Get The Award-Winning iPhotography Training: Lifetime Access from The Bril Store!
Enhance your skills from still photography to videography with Video School Online Unlimited Lifetime Membership.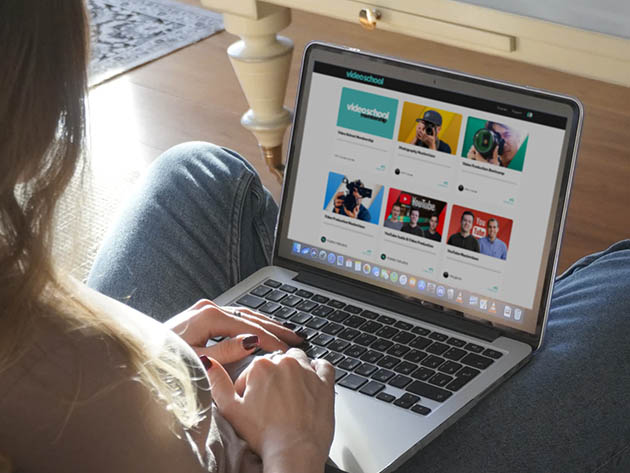 Enjoy 1,500 Hours of In-Demand Contents on Photography, Video Production, Adobe Applications & More.
Video School OnlineThis course is taught by professionals in the photography, video, design, and business world. We all look forward to teaching you new skills that enrich your life and help you build a better business.
Phil Ebiner | Top-Rated Instructor, 2 Million+ Students
4.6/5 Instructor Rating: ★ ★ ★ ★ ★★
Phil Ebiner's passion is inspiring people through online courses. Since 2012, over 200,000 students have taken his online courses. He graduated with a Bachelor's Degree in Film and Television Production from Loyola Marymount University, Los Angeles. Over the past 5 years, he has shot and edited thousands of videos that have played everywhere from the movie screen and television to film festivals and YouTube.
The Video School membership gives you unlimited access to all courses, including all future courses and course updates. This includes several top-rated courses such as Photography Masterclass, Video Production Bootcamp, YouTube Masterclass, Digital Marketing Masterclass, and Adobe applications such as Photoshop, Premiere Pro, Illustrator, After Effects, and more. You never have to pay for one of our courses again!

Access 2,000 lectures & 1,500 hours of content 24/7
Enjoy 100+ courses for video creators, photographers, online teachers, & other professionals
Save $1,000s off the individual course prices for one low monthly price, or one low lifetime price
Never pay for another course again as becoming a member means getting access to all current & future courses
Follow the learning paths to go from beginner to advanced in any topic
Courses Included
Photography and photo editing
Video production, editing, cinematography
Adobe Photoshop, Premiere Pro, Illustrator, After Effects, InDesign, Lightroom Audition
Starting a Business
Digital marketing & social media marketing
Copywriting, SEO, website design, WordPress
Podcasting, YouTube, Content Marketing
Drawing, illustration, sketching, character design
Affinity Photo, Affinity Designer and Procreate
Get Video School Online Unlimited Lifetime Membership from The Bril Store
Want to make your smartphone a photography powerhouse? Then the 11-in-1 Smartphone Photography Accessory Bundle is just what you need!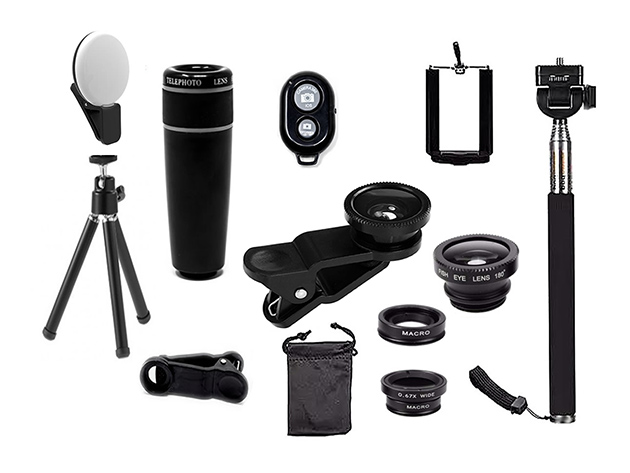 Take Your Photography Up a Notch with This 11-in-1 Smartphone Accessory Kit

Your phone might have a powerful camera, but that's only part of what goes into taking a good photo. Complete with a tripod, lenses, and a bunch of other goodies, this 11-in-1 kit has everything you need to take your smartphone photography to the next level. Take remote photos using the Bluetooth control; get the perfect selfie angle and lighting with the included selfie stick and light; and get extra creative with your shots by attaching the 3-in-1 lens set, complete with a wide-angle, macro and fish eye lens!

Take remote selfie pictures w/ the Bluetooth remote
Get perfect pictures at night every time w/ the selfie light
Get a closer shot w/ the 8x zoom lens
Snap close-up macro photos, wide angle pictures & fun fish eye shots
Easily clip on to both Samsung & Apple smartphones
Easily tote around inside the included carrying case
Buy The 11-in-1 Smartphone Photography Accessory Bundle from The Bril Store!
Want to go pro? What is photography without a good DSLR?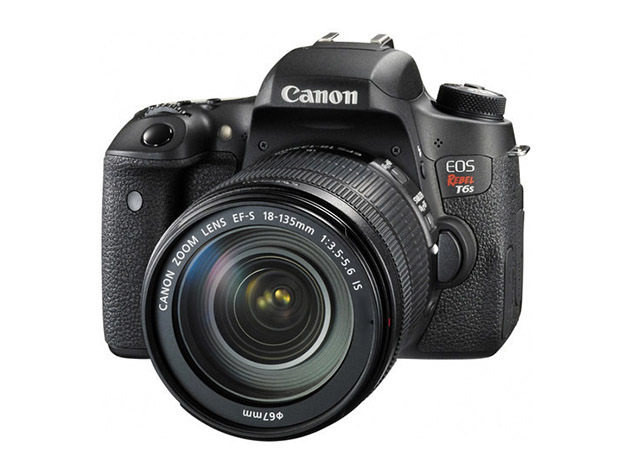 This Feature-Packed Camera Will Be a Great Asset At Any Event Or On Your Next Vacation
No, smartphones are not the tools of serious photographers (or even skilled amateurs) and the market for quality DSLRs is booming. If you're looking for a quality DSLR to better document your adventures, you'll love the Rebel. The EOS Rebel T6s DSLR with EF-S 18-135mm f/3.5-5.6 IS Lens is the first of its class to feature a top LCD panel, a Quick Control dial, and horizontal level. Packing a high-res 24.2MP CMOS sensor and DIGIC 6 Image Processor, this camera enables shooting in a wide variety of settings, from bright sunlight to dim indoor scenarios.
ISO performance of up to 12,800 (& expandable to 25,600) lets you shoot in a huge range of light
Built-in WiFi connectivity w/ NFC allows for wireless transfer of images & video to social networks & cloud storage
NFC enables fast connection to mobile devices as well as the CS100 Connect Station
Hybrid CMOS AF III allows fast, accurate autofocus during HD video shooting & Live View
Vari-angle 3.0″ 1.04M-dot ClearView II touchscreen LCD monitor allows for versatile positioning of the camera
EOS scene analysis system can detect near-infrared light & flickering light sources for metering the scene
High speed continuous shooting at up to 5 fps lets you shoot action shots cleanly
Buy The Canon EOS Rebel T6s DSLR Camera + 18-135mm Lens from The Bril Store!
Why not add a drone camera to complete your photography arsenal and take your hobby or profession to the next level?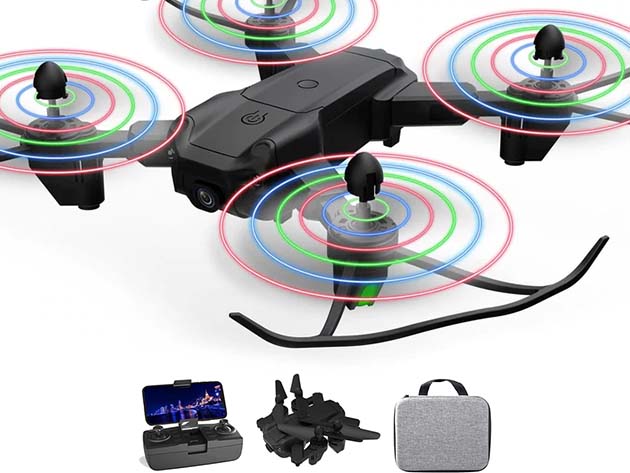 Take Aerial Shots to a New Level with This Drone's 4k Dual Camera, LED Navigation Light & More
This upgraded drone has the newest generation of 6K dual cameras, and is equipped with two batteries. You will get one storage bag, so you can put everything in one bag. It supports optical flow positioning hover and trajectory flight control. With a touch of your finger, you can draw the course you like on the mobile app; then let the drone fly through that course automatically. You will have more fun when flying the drone!
Mobile app flight route. App can be downloaded for both Apple & Android
50x zoom shooting. Allows you to see farther & clearer
Cool RGB lighting fan blades. Can be more easily seen at night, giving you more fun during the flight of the drone
3D folding technology. This can be folded thousands of times, still ensuring the stability of the flight
LED night navigation light. Allows you to clearly see in the dark
Multi-function control. Experience a new way of taking aerial photos

Real-time image trnasmission
One-key return
Trajectory flight
Mobile phone control
Gesture photography
Streamer hover
Buy The Dual 4K Camera & One-Button 360° Flip Drone from The Bril Store!