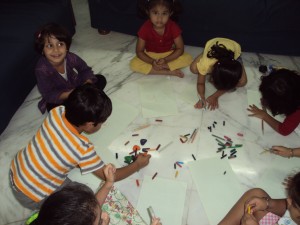 What do your kids do in their leisure time? Settle on the couch and switch on the TV. Right? TV has become an integral part of our existence. But try switching off the TV for a day and see the huge amount of time you have on your hands. "But what would the kids do then?" Here are some options for spending a TV free day.
Be a bookworm
Undoubtedly reading is the most fruitful pastime. Unfortunately kids are not encouraged any more to do that. Fiction, poetry, current affairs, and biographies – the list is endless. Pick out books of their liking and stock them for reading. They can go to libraries or swap them with their friends. Many book shops have cozy cafes built in for avid browsers. This can turn in to a family activity where you can suggest books to each other. Discuss the mutually read books to swap ideas. Nothing enlivens a dining table more than a heated discussion on the pros and cons of a book.
By reading books the kids gets an idea of far off places and their people. The mind gets broadened as they pick up other people's point of view and experiences. Not to say the enhancement of grammar power. You can always guide the youngsters towards broader horizons and new reading experiences.
The fine arts
If a child is lucky enough to be gifted with an artistic flair, it is time to pick it up. Often art techniques, learnt with such dedication, are discarded in the busy schedule. Pass on any skills you know to your children. Remember the fine brush strokes you had mastered; or the rhythm of the Hawaiian guitar that was so close to your heart; or perhaps the rise and fall of those notes of Carnatic music that flowed in your veins. If not, there are numerous classes to take lessons from.Painting, singing, dancing, playing musical instruments, dress designing – whatever tickles their fancy.
Puzzles and brain teasers
Studies say that brain cells tend to disintegrate if they are not used regularly. Just as a stiff exercise regimen is important for a healthy body, similarly the brain requires regular workout too. Pick up some puzzles and brain teasers and give your child's mental facilities a deep workout. Initially it may seem tough as so start with easier problems. As their brain learns to grapple with the problems, graduate to a higher level. You can try puzzles, anagrams, Sudoku, crosswords, word problems, numerical problems, jigsaw puzzles etc. Puzzles also help in building concentration and perseverance. Competing against each other will bring a healthy spirit of battle amongst the family. You can maintain scores and declare weekly winners.
Play time
Do you remember those card playing sessions reserved for summer holidays? What fun they were! The choices are immense as there are numerous card games to choose from – court-peace, bridge, sweep, rummy, bluff, memory etc. Not only it improves the memory but the kids also learn the strategic planning techniques in a much pleasanter way. Some games help in vocabulary enhancement. Now there are many other board games to choose from. Business to get the grip of financial management, Scotland Yard for sheer planning and memory, Pictionary for expression, What's the Good Word ,Scrabble or Countdown for word power. The list is endless.
Giving back
Hindu philosophy says that we all are indebted for all things that we receive instantaneously when we are born. We have a debt to the inventors for the inventions, our parents for bringing us up and the farmers for the grain they produce. To show gratitude, we must give back to the society from which we have received so much. We see that this important lesson is missing from the children's curriculum. The easiest way to teach children to contribute is giving away your spare things for the more needy. There are many NGOs that collect usable clothes and shoes for victims of natural calamities etc. Make this a regular trip. One thing our society needs badly is a keep clean drive, be it the roads, the parks or the rivers. They can extend a helping hand and pay back the debt. By extending a helping hand the kids are also proving themselves to be a role model for others.
Communicate
In this fast paced world, we are fast loosing contact with our family, friends and foes equally. And messages on Facebook do not count! Try channeling the kid's TV free time to restore these fragile bonds. Let them rediscover the musical sound of pen on paper. Encourage them to write long letters to people you care for. Invest in quality letter paper and pens of their choice.
Be a tourist
We have been living in the city for ages but the tourist hot spots are still unknown to us. There are umpteen monuments, gardens, temples and other religious places around the city where thousands of tourists hang around. Herd up the family in the car and drive down to the nearest fort. Soak up the history of the place, actually listen to the guide and pass on some facts and tales to the younger generation.
Culture vulture
In the fast paced era the other art forms are slowly losing out. What can match the aura of a theatre play, a dance performance or a music recital? It is one thing to see these things on the TV but experiencing it upfront can be real uplifting. Book tickets for one of these events and let the kids see culture come alive first hand. Take them to visit some of the art galleries and admire the nuances of brush and strokes.
Grow a green thumb
Nothing matches the pleasure of sowing plants and observing them grow. If you don't have a patch of land, get some pots. Let the kids plant their favorite flowers and herbs and enjoy them. An exciting idea is to have a pizza garden. Kids really love it! Grow all the things required to make a fabulous pizza like tomatoes, onions and herbs. When they are ready, make a fantastic pizza out of the home grown produce.
DIY projects
Nothing is greater fun than making something along with your family. Take up a project that involves the kids and see the exciting results. It could be making a cupboard, repainting a room, crafting a quilt, setting up furniture, rigging up a computer even. Be ambitious and creative and see the great times roll.
Be one with nature
In the hustle bustle of the concrete jungle we live in, we are losing touch with the beauties of nature. Take the kids on a long drive along a tree lined road and let them breathe in the fresh air. A hike in the woods would be equally invigorating. Admire a flower garden and smell the heady fragrance. Visit a flower show and see the umpteen species blooming there.
Are these ideas new? Of course not! That is what people did for entertainment BT. What's BT? Before Television.
Re-published with permission from the blog of ParentEdge, a bi-monthly parenting magazine that aims to expose parents to global trends in learning and partner with them in the intellectual enrichment of their children.