Take a look at some very interesting earbuds, speakers and sound systems below: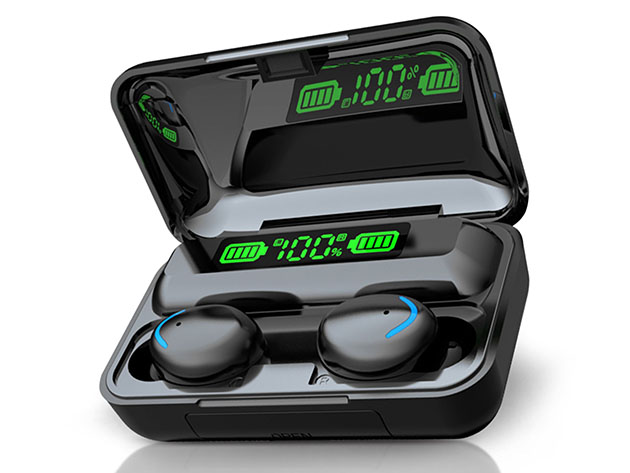 Good Bluetooth earbuds / earphones don't have to break the bank. Flux 7 TWS Earbuds are a solid deal starting at $24.99 when on sale. These earphones come in a case that doubles up as a 2000 mAh polymer lithium power bank.
It has noise cancellation to Reduce Unwanted Noise While Enjoying 5 Hours of Wireless Music & Calls in Every Charge. The sound quality rivals what you would get with top brands and so this baby is real value for money!
Using advanced noise-reduction technology, Flux 7 TWS earphones have been designed to reduce unwanted noise during exercise. With an onboard 2,000mAh polymer lithium battery that offers 5 hours of standby time, Flux 7 TWS earbuds are ideal for fitness enthusiasts who want to pack light and move fast. Suitable for sports, waterproof and sweatproof, enjoy music on rainy days and when exercising.
Voice assistant. Press for 2 seconds to arouse the voice assistant & make it more convenient for you to enjoy music
Auto pairing

Taken out of the charging cabin, the earphones are automatically started up & automatically paired
Put into the charging cabin, the earphones are automatically shut down, disconnected & begin to charge

Intelligent quick charge

With the built-in 2000mAh polymer lithium battery in the charging bin, the cabin body can be quickly charged and standby time reaches up to 5 hours
Large battery multifunctional charging case (as power bank for phone)

Intelligent noise reduction. Helps exclude the noises when in noisy environment
Strong compatibility. Compatible with iOS & Android system as long as your cellphone supports bluetooth function
IPX4 waterproof level. Suitable for sports, waterproof & sweat proof, enjoy music in rainy days and when exercising
Buy The Flux TWS Earbuds at The Bril Store
We found a top notch deal for a refurbished Sennheiser Consumer Audio 507081 GSP 350 Surround Sound PC Gaming Headset. If you want Dolby surround sound for gaming or music and don't mind a like new certified refurbished piece in the retail box, you should definitely consider these headphones. This is a top notch performer from a great sound brand, with an intuitive built-in volume control.
The GSP 350 Gaming Headset from Sennheiser features virtual 7.1 Dolby Surround Sound and a closed-back design that reduces outside noises so you can concentrate on what matters most. The soft, memory foam earpads and adjustable headband provide you with comfort over long gaming sessions, while the built-in volume control knob offers easy access for adjustments. With the noise-canceling microphone, your teammates and enemies will be able to hear you clearly. On the other hand, should you prefer to stay silent, simply raise the boom arm to automatically mute the microphone. For compatibility with other platforms, you will need a separately sold cable. Also please note that surround sound only works with Windows PCs.
7.1 Dolby Surround Sound
A USB Surround Dongle provides Dolby 7.1 Surround Sound processing delivering spatial realism to enhance your game.
Noise-Cancelling Microphone
Experience crystal-clear game chat and convenient muting by simply lifting the microphone boom arm.
User-friendly Software
Allows for customizable control over gameplay and chat audio.
XL Ear Cups
Memory foam and leatherette ear pads for the best-in-class acoustic seal and comfort.
Closed Back Design
Prevents sound from escaping and keeps you undisturbed while playing.
Tough Built
Durability and reliability are ensured by the use of high-quality materials and extensive product testing.
Buy the Sennheiser Consumer Audio 507081 GSP 350 Surround Sound PC Gaming Headset from The Bril Store Now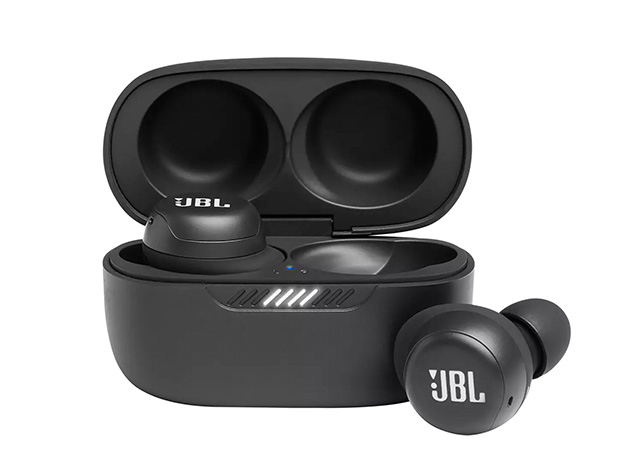 JBL is a top notch, world-class sound devices brand and these earbuds pack a punch when it comes to sound quality and double up in value because they come with 21 hours of battery life! To make things better they cut out noise like a pro.
Take on the world, with style. JBL Live Free NC+ TWS earbuds deliver JBL Signature Sound with supreme comfort. Stay in the groove all day long without noise or any distractions thanks to Active Noise Cancelling, while TalkThru and Ambient Aware keep you in touch with your friends and surroundings. Up to 21 hours of battery life and in-case wireless charging give you seamless, convenient ease of use, and Dual Connect + Sync means you can start listening immediately, with either earphone or both. With your choice of Voice Assistant, perfect calls, and intuitive controls right at your fingertips, you'll never need to stop the music. Water and sweat-proof, the JBL Live Free NC+ TWS won't let you down no matter your activity or the weather conditions. So you can live Free.
JBL signature sound. Makes your music experience extraordinary
Active noise cancelling. No noise & zero distractions w/ active noise cancelling
Smart ambient. Allows for natural conversations & total awareness of your surroundings
Dual connect + sync. Automatically pairs to your device as soon as you flip open the case
Fast Pair enabled. Pair multiple devices just by tapping on the device's screen
Qi-compatible wireless charging. Allows you to charge on the go
Up to 21 hours of combined playback. Up to 7 hours of music playback & up to 14 hours in the case
All-access touch control. Full control of your audio is just a fingertip away
Sweat & waterproof. Keeps you company come rain or shine
Comfort-secure fit. Easily customize your earbuds to get a perfect fit that'll stay in place
Buy JBL Live Free NC+ True Wireless in-Ear Noise Cancelling Bluetooth Earbuds from The Bril Store!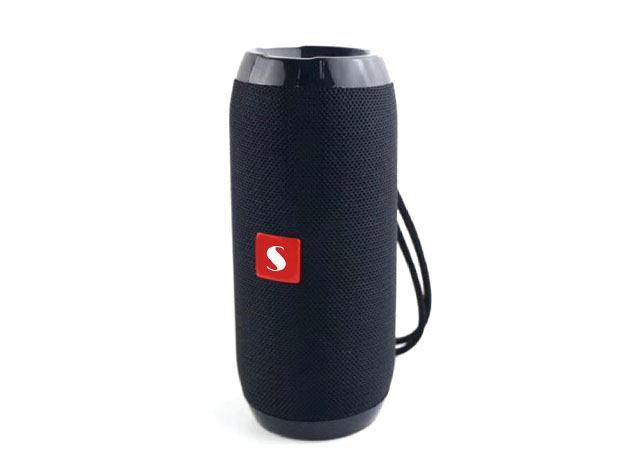 If you are looking for a Bluetooth speaker and subwoofer rolled into one at an unbelievable price look no further. This Portable Bluetooth Speaker with Built-In Subwoofer Plays Boundless Music Everywhere You Go.

A get together with friends or family is only be complete when you serve them with good food and good music. This Music Manager Bluetooth Speaker & Subwoofer is portable and can be taken outdoors near the pool or take it with you when you go on long drives. It has a built-in subwoofer which creates a great sound effect, plus a built-in MP3 player so you can play songs directly with the speaker. It also has a built-in mic for answering calls. With a vibrant color and 10″ height, this speaker not only brings music but also adds design to any party.
Buy the Music Manager Bluetooth Speaker & Subwoofer from The Bril Store
We found one of the top brands albeit refurbished at a great price. Altec Lansing is a world-famous sound accessories company. If you want a party beast, the refurbished Altec Lansing Shockwave 100 Wireless Party Speaker is the ultimate companion.
The Ultimate Party Companion Featuring Up to 10 Hours of 150W Output, Bluetooth Music, Multi-LED Modes, & Built-In Mic.
Create good vibes with the Altec Lansing Shockwave 100 Wireless Party Speaker. This 150-watt powerhouse makes it the ideal speaker for large gatherings. The built-in multi-LED party modes can be adjusted to beat, strobe, or pulse to the music. The Shockwave 100 can be played horizontally or vertically for added flexibility. You can even sing along with your favorite tunes with the included mic. With up to 10 hours of battery life, USB ports for smartphone charging, and True Wireless Pairing, the Shockwave 100 is the ultimate party companion!
150W powerhouse. Ideal speaker for larger gatherings
Bluetooth. Connects wirelessly to any compatible device within 100ft range
Multi-LED party modes. Adjusts to beat, strobe, or pulse to the music
Flexible. Can be horizontally or vertically played
Built-in mic. Lets you sing along with your favorite tunes
Rechargeable. Lasts up to 10 hours
True Wireless Pairing. Allows 2 speakers to be paired up together
USB ports. Supports smartphone charging
Model year: 2020
What Does "Refurbished" Mean? This Certified Refurbished product is tested and certified to look and work like new. The refurbishing process includes functionality testing, basic cleaning, inspection, and repackaging. The product ships with all relevant accessories, a minimum 90-day warranty, and may arrive in a generic box.
Buy The Altec Lansing Shockwave 100 Wireless Party Speaker from The Bril Store!
*Prices and offers are subject to change
Bril earns a commission for all products sold through www.thebrilstore.com
customer service handled by StackCommerce