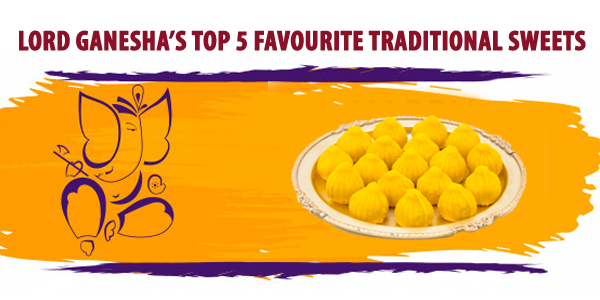 The most beloved God, Lord Ganesha, brings with him fortune, wisdom and a sweet tooth! Ganesha Chaturthi is a time when people make and exchange a lot of traditional sweets which have been offered to Lord Ganesha for generations. Here are five of his favourite sweets:
Modak: This rice flour dumpling is Ganesha's most loved sweet and is also featured on many Ganesha paintings & idols. The traditionally maharashtrian delicacy is synonymous with Lord Ganesha and Ganesha Chaturthi is incomplete without these coconut & jaggery filled dumplings Enjoyed fried or steamed, around 21 modaks are offered during the religious ceremony. Today many versions of the Modak have emerged like-Dark Chocolate Modak,  Kesari Modak, Moong Dal Modak and many more. 
P.S. Did you know there's a Japanese version of Modak called, Kangidan, offered to their version of Lord Ganesh, Kangiten.
Puran Poli/Holige: The Indian Pancake or Puran Poli again is one of Maharashtra's traditional sweets are made during every festival and Ganesh Chaturthi isn't an exception. Made of Flour & channa dal, the puran poli is also popular among Gujaratis & Kannadigas. Cardamom and nutmeg powder give this unique dish its unique flavour. Best enjoyed with milk or coconut milk, puran poli is also served at weddings.
Motichoor Ladoo:  Again, one of Lord Ganesh's all time favourites, the melt-in-the-mouth besan balls, also make a guest appearance on many pictures and paintings of Lord Ganesh.  These ladoos are not only offered to Lord Ganesh but are also widely distributed to friends & family during Ganesh Chaturthi. A generous sprinkle of saffron powder makes this sweet irresistible. Motichoor ladoo is one of India's most popular sweets and finds itself to be the perfect token of love & appreciation during occasions.
Shrikhand: Ever used curd for a dessert? Well, Shrikhand is the best example of making curd an important sweet accessory. Made with hung curd, this pasty paradise again hails from Maharashtra & Gujarat is an all time festive treat is tough to ignore. An explosion of nuts & raisins and a dash of saffron makes this sweet one of Lord Ganesh's sophisticated slurps!
Payasam: Payasam or Kheer (as it is known in the north) is another popular sweet made during Ganesh Chaturthi. Made with either rice or vermicelli, this is one of the most commonly made sweets offered during all festivals and is a big hit across the sub-continent at all times. Weddings, festivals, events, birthdays, you name it, and you'll find a generous bowl of this milky muse around the corner.
This Ganesh Chaturthi spread the love & joy with Lord Ganesh's favourite sweets!
Happy Ganesh Chaturthi to all of you!