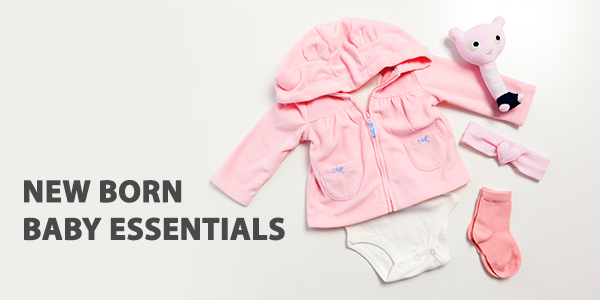 Prepping up for the arrival of a newborn could seem an overwhelming task. With all the excitement and anxiety, as a parent, you would want to give everything to your little dewdrop.
But the truth is your baby won't need much initially. Just a few basic things with your love, care, attention and good vibes will make her a happy, jiggly-wiggly baby. Being organised and having a few basics ready is the key!
So to help you get everything sorted before your little cupcake steps into your life, we've jotted down some important baby essentials that you'll be needing. Here's the list:
Crib. Babies sleep for at least 16 hours a day, or more. Set a safe, clean, waterproof crib with a firm mattress and place it at a soothing place.
Bedding. For the time that your munchkin would be spending outside the crib, create a bedding with a waterproof mattress cover.
Clothes. Babies don't need anything fancy in those first few weeks. Stick to simple, comfortable, cottony and budget-friendly clothing. Just 5-8 onesies, 3-4 baby sleepers and 5-7 pairs of baby socks should be more than enough.
Diapers. This one is pretty obvious. You're undoubtedly going to need diapers, lots of them! On an average a newborn baby needs around 70 diapers a week. While it's impossible to know the size beforehand, buy small packs of a few different sizes.
Diaper rash cream. Diaper rash is a very common phenomenon among newborns. Ask your baby's doctor about which cream or ointment is best to prevent it.
Changing Station. Set up a place for changing your little one's diaper or clothes. It would be great if this station had drawers or shelves to keep things like diapers, wipes, fresh clothes, creams or powders.
Washcloths. Use a wet washcloth with warm water to wipe your baby's diaper area. You can also use this cloth for cleaning your baby at bath time.
Bathing essentials. For the first two weeks, doctors recommend giving your baby a sponge bath. After that, bathing your baby three times a week is also enough. Things you would need are 3-5 washcloths, 1-2 hooded towels, 1 baby sponge, 1 bottle of baby bath wash, 1 bottle of baby lotion and a bathtub.
Baby bottles. In the first few weeks, a baby is like a sleeping and eating machine. Fortunately, they've a limited menu. If you don't plan to breastfeed, you'll need some 4-ounce and 8-ounce bottles.
Bottle brush. The brush will help you thoroughly clean the inside of the bottle.
Burp cloth. These clothes are designed to protect your clothing when you burp your little one. In case she spits or throws up, the burp cloth will make the cleaning process easier and manageable.
Nursing essentials. If you plan to breastfeed your baby you might need nursing bras, disposable nursing pads and a breast pump.
Baby nail clippers. Newborn nails grow rapidly. Regularly clipping them will prevent your baby from scratching themselves and you. Ensure to buy a clipper that is especially made for soft nails and comes with a torch.
Pram or stroller. Prams or strollers are useful for trips to the mall, walking around the blocks, while travelling, and even at home to soothe a crying baby. Choose a pram with a lie-flat position that is suitable for newborn babies.
What else do you think we should add? Share your thoughts with us in the comments below: