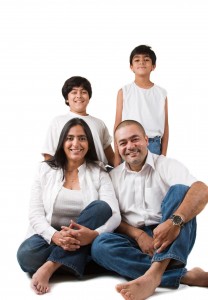 Early this year, Amy Chua, professor at Yale Law School, shot to fame – not for her legal prowess but because of a book she wrote. An excerpt of 'Battle Hymn of the Tiger Mother' published in the Wall Street Journal, ignited a global debate on pSo, is there some merit in Chua's way of thinking? Can we say that one style of parenting is superior to another? Do the results justify the means? And most importantly, what is right for your child?generation Chinese immigrant, advocates that the Chinese style she practiced setting high performance expectations and imposing a strict regimen totally devoid of distractions and social interactions – yielded better outcomes than the laissez faire Western style.arenting. Chua, a second
With increasing demands on the time of both parents and children, and with the world around us changing so quickly, parenting, in today's fast-paced urban India, is a kin to an emotional roller coaster ride. It can be exciting and exhilarating one moment, but nerve wracking and even scary at other times. With rising disposable incomes, global exposure and increasing access to technology, the world in which Indian children are growing up today is so different from the one their parents grew up in.
As parents, are you equipped to deal with the future shock?
It's true that children are not born with instruction manuals, but parents across the ages have devised their own methods, as you would surely have, to deal with their own. The method you fall back on to raise your children, or your parenting style, is often shaped by your own experiences with your parents, your cultural context and your family beliefs and values.
A well-researched subject, parenting styles can be broadly divided into four buckets – authoritarian, authoritative, permissive and neglectful. "Do as I say, no questions asked" is authoritarian, whereas, "Let us discuss why it is important for you to do this," is authoritative. "If you don't want to do it, don't do it," is permissive while, "I don't really care whether or not you do it," is neglectful.
Today's fathers may perhaps recall that their own fathers' styles were mostly authoritarian! Families with both parents working (who are also on guilt trips!) sometimes adopt the permissive style. In some grown-ups, permissive parenting is also a reaction to the methods adopted in raising them – "I had such a hard time in my childhood with no freedom at all. My daughter should be able to do what she wants."
Chinese vs. Western Parenting Styles – Recent Brouhaha
"Here are some things my daughters, Sophia and Louisa, were never allowed to do: attend a sleepover, have a playdate, be in a school play, complain about not being in a school play, watch TV or play computer games, choose their own extracurricular activities, get any grade less than an A, not be the No. 1 student in every subject except gym and drama, play any instrument other than the piano or violin, not play the piano or violin," says Amy Chua, author of 'Battle Hymn of the Tiger Mother'.
Different strokes for different folks – Parenting styles day-to-day
Our guess is that most parents would not have chosen a single parenting style as the response to all the four scenarios described earlier. That is because parenting styles are not cast in concrete – they are not water-tight compartments in which your children and you swim during the entire parenting journey! ParentEdge team's own research and observations show that there are few parents in India who follow one style predominantly and consistently over time. And that is the way it should be for the following reasons:
The child's temperament
Parenting is not a one-way street – the child's own way of responding to people and events (temperament) inter plays with the parent's style. Factors that indicate temperament are aspects of an individual's personality that are innate –the 'nature' part of your child rather than the 'nurture'! This explains why your daughter is a hyper-active extrovert, while your son a quiet introvert.
According to psychologists Dr. Stella Chess and Dr. Alexander Thomas, there are nine attributes that help identify a child's temperament (see Box).We have added some pointers to fine tuning your parenting style to match the attribute of your child. According to research, temperament cannot be forcibly changed and so it is a good idea to work with your child's temperament rather than try and change it through your style (which can be a frustrating experience).
Change your style as your child grows up
You should also consider adapting your style as your child grows up. For very young children, certain situations demand an authoritarian style as they may not appreciate reasoning and it may be impractical to launch discussions. As an example, your three-year-old is trying to push another child into the swimming pool's deep end. What will work best is a yell, "Stop that! Now!" On the other hand, teenagers are prone to go through a rebellious phase and continuing an authoritarian style (even in selective situations) that has worked till then may not be a wise thing to do.
Between the ages of three and 18, a child goes through many significant changes physically, mentally and emotionally. A hyper-active toddler could grow into a calm and mature adolescent while quiet pre-schoolers could become a handful as they reach their pre-teens and teens. A clinging infant may blossom into a self-sufficient and confident teenager while a confident tween could grow up to become an insecure, approval-seeking adolescent. You never can predict what's in store. So, it is really important to watch your children and observe the changes in their temperament as they reach different milestones in their journey to adulthood. Be sure you adapt your approach to be effective at all these different stages.
The sibling factor
We talked earlier of siblings with different temperaments – despite having common genes, differences between siblings are the rule, not the exception. As your children grow up, as parents, you can be often taken by surprise to discover how different each child is from the other. Understanding that each child is unique and figuring out what works best for each of them is an important aspect of parenting. Very often parents are guilty of not being sensitive to differences, and, even worse, drawing in appropriate comparisons. One has to be particularly careful while setting performance goals or benchmarks – academic or otherwise, and avoid force-fitting interests.
A style for an occasion
An authoritarian style may just be what the doctor ordered for a child who is constantly testing boundaries. It may also be occasionally useful to quell willful behaviour, especially in younger children, or when you want to send a stern message to correct an unacceptable behaviour in an adolescent. A permissive style may work perfectly fine with children who are mature, responsible and internally motivated, especially in late adolescent stages. On the other hand, it is fine to use an apparently "neglectful" approach on certain occasions – for example, you want to get your child out of the habit of seeking approval constantly and teach him to make his own decisions – "I don't care if it is this or that"- to push him to make his own decisions.
Re-published with permission from the blog of ParentEdge, a bi-monthly parenting magazine that aims to expose parents to global trends in learning and partner with them in the intellectual enrichment of their children.