Remember the time you asked your mother for permission to spend the night at a friend's house and she exclaimed "No, of course not! You can play during the day, what is the need to spend the night there?"
Times have changed since then and today, parents are more accepting of sleepovers.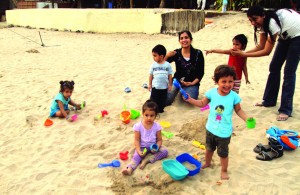 What about playdates? When we were young we simply played with the neighbourhood kids in the evenings after school, coming back home sweaty and tired, ready for dinner and sleep. But today, our children have 'playdates', where parents schedule the play activity on a particular day and invite other children to it. In fact, playdates are fast becoming yet another avenue to showcase the creativity (and wealth!) of the parents, involving as they do organised entertainment, catering and even return gifts!
But if you are one of those parents who believe in keeping it simple, with the primary objective of a playdate being to get children to have a good time in a safe way, then read on…
Play and the socialisation process
Playdates are very important to the social development of today's child. Urban children brought up in nuclear families lack many elements of the socialization process that characterized earlier generations who lived in joint families. Busy parents, aloof neighbours, lack of space (no more gully cricket!) and time (dance class and abacus class and handwriting class and phonics class…..) …these have taken away an important element of childhood – romping around with friends and free play. Playdates give the child an opportunity to interact with her friends outside the formal environment of school, to learn sharing, collaboration and teamwork skills in a socially acceptable manner, and simply, to enjoy her free time with her friends.
Sleepovers take this a step further, fostering a feeling of independence in children and allowing them to feel 'grown-up'. Plus, they are a lot of fun!
Playdates can be organised for children of pretty much any age, even those as young as one. Of course, be prepared to accompany your child on her playdates for the first few years (until she is around five), after which time she can be dropped off alone at her friend's place, with a parent to supervise. An added bonus of playdates – parents can also have fun, making new friends with other parents, and getting a chance to indulge in some adult conversation beyond the usual baby talk!
Sleepovers, on the other hand, are difficult to organise for very young children. Your child must be toilet-trained and used to sleeping alone before she is ready for a sleepover. Most importantly, she should have no strong anxieties – about the dark, night time noises, etc. – that will prompt her to wail for you in the middle of the night! Children aged 10 and above can generally be expected to make the most of sleepovers.
Playdate 'fun'dae
What to do: So it's your turn to organise the playdate. First, decide whether it's going to be an indoor or outdoor one. If you plan on an outdoor one, be sure to enlist the help of other parents, and maybe maids, so you can monitor the children and the different activities. Also decide the timing and duration of the playdate upfront so parents know at what time they need to pick up their children. The duration of the playdate depends on the age of the children – for toddlers, anything more than an hour could be tiring, whereas for older kids even three hours will not satiate them!
What to feed them: With younger children, it's better to serve some dry snacks which will not make too much of a mess. Older children can stay over for dinner, especially if it's a Friday or Saturday. Do ensure that you check with parents about allergies and any strong dislikes/food preferences. Keep the food simple and easy to eat. It is better to serve all the children on similar looking or neutral tableware – you don't want the children all clamouring for your child's Cinderella mug or Winnie the Pooh plate!
Safety precautions and rules: Attention to safety is a very important aspect of organising playdates. Firstly, no matter what the age of the children is, it is essential to have adult supervision in the vicinity. This is not just to mediate between children in the event of disputes, but more importantly to ensure the safety of children. You can also set rules upfront for the session that all children need to follow – clearing up after each game and before beginning the next activity, no rough games inside the house, no shoes inside the house, no jumping on the furniture, no playing with scissors, etc. Children should be made to understand that these rules are for their own safety and any child not following these rules will not be allowed to continue playing with the others. Do ensure that you have the contact numbers of all the parents in case of an emergency.
Sleepover 'fun'dae
Sleepovers are more complicated to organise than playdates – you are actually committing to taking responsibility for some highly excitable children whom you cannot admonish or punish! And that too at night – the time when most things seems to go wrong! This is why sleepovers are usually organised only for older children who are independent and have some amount of maturity and understanding – typically 10 years and above.
Whom to invite: This is a no-brainer – it is your child who will decide whom she wants to invite. Your role will be limited to controlling the number of people invited so as to keep the sleepover manageable. Decide before-hand whether you want to invite only one other child or whether you are brave enough to handle a whole menagerie of kids!
What to feed them: Generally, starting the sleepover after dinner time makes better sense since it cuts down on the effort involved in serving dinner and catering to differing needs and preferences. But don't think that this means you don't have to arrange for food – far from it! An essential part of sleepovers is the fun food (read junk food) that the kids will look forward to. Staying up most of the night will make them ravenously hungry, especially post-midnight when you, the parent, are just settling into bed. So arrange for all the fuel (popcorn, chips, chocolates, etc.) before-hand. And you will also need to plan for breakfast – keep this simple, but be ready with both Western (bread and cereal) and Indian (idly/dosa) options for varying palates.
What to do: Generally children of this age can be trusted to organise their own entertainment. But here are a few suggestions for fun things to do at a sleepover:
• Board games
• Lateral thinking games
• Singing songs and Karaoke
• Telling scary stories after midnight with lights out
• Playing Hide and Seek in the dark
• Video games
• Makeovers and playing at dressing up
• Watching good, wholesome movies – TV is a bad idea since you will not be able to control what they are watching; it is advisable for you to rent an appropriate movie to watch
Ideas for outdoor playdates
• Paddle pool / swimming pool
• Gardening
• Beach
• At a hobby centre – art and craft
• Play areas in malls / game arcades for older kids
• Parks (do keep in mind that if you go to a park with swings and slides, the children may prefer to play independently on these equipment than with one another)
• In open spaces, where you can organise team sports or games like cricket, football, etc.
Ideas for indoor playdates
If your playdate is at home, your list of probable activities can be much longer – have the children play a variety of games, tell stories, read books, sing songs, catch bubbles, draw and colour… you can also play popular indoor games like Blind Man's Bluff (after moving the furniture to the side), Hide and Seek, Dumb Charades, Antakshari, etc. Allow some time for unstructured play as well, to encourage children to play independently and decide for themselves what they want to do– this will give free rein to their imagination. Even playing with Barbie dolls, kitchen sets and cars can be beneficial, allowing them to indulge in story-telling and role play.
Re-published with permission from the blog of ParentEdge, a bi-monthly parenting magazine that aims to expose parents to global trends in learning and partner with them in the intellectual enrichment of their children.