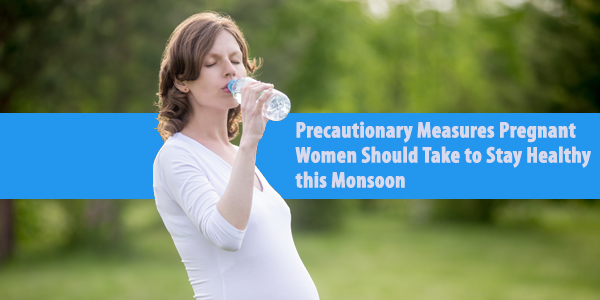 The monsoon season has set in all over the country. While the showers provide a welcome relief from the blistering summer heat we have endured during the past few months, it also brings with it its own set of health challenges. The most common challenges of the monsoon season relate to the risk of water-borne infections, mosquito-borne infections, viral fever etc. While these are a cause of concern for everyone, children and pregnant women are particularly vulnerable and need to take extra precautionary measures. Here we will focus on what those precautionary measures which pregnant women need to take to stay healthy this monsoon season.
Stay Hydrated
The end of the summer months also brings an end to the parched feeling that made us gulp down copious amounts of water. However just because we don't feel thirsty it does not mean our body does not need its quota of fluids for the day. This is especially important during pregnancy because water helps flush out the toxins from the mother's body, prevent dehydration, helps transport the necessary nutrients to keep the baby healthy in addition to other benefits. The fact that water is required for the healthy development of the baby makes it very important that pregnant women drink more (around 8-10 glasses of water per day) than the recommended daily amount for adults.  
Drinking Boiled/Filtered Water
It is also especially important that pregnant women only drink boiled or filtered water in order to protect them from the risk of water-borne diseases.  There is an increased risk of water born diseases during the monsoons because the groundwater tends to become contaminated with dirt and other debris that had been washed away by the rain and ended up seeping into the ground and mixing with the groundwater. The high level of humidity during the monsoons also increases the multiplying rate of bacteria in water because of which drinking boiled/filtered water or bottled mineral water is preferable.  
Stick to Home Cooked Nutritious Meals
The fact that the digestive system becomes weaker during the monsoons makes eating the right kind of food extremely important.  The foods to avoid will be:
Outside Food which includes deep-fried snacks (samosas, pakodas etc), chaats, fruit juices, frizzy drinks, ice golas etc

Heavy rich food which will be difficult to digest

Raw vegetables
Foods that can be eaten are:
Soups, homemade fruit juices etc.

Cooked vegetables 

Dairy products like curds and paneer

Dry fruits and nuts

Citrus Fruits
Extra Precautions Relating to Hygiene
In the current scenario, pregnant women should be extra cautious when it comes to ensuring hygiene to keep both themselves and their baby safe. They should:
Wash vegetables and fruits thoroughly before using them

Wash their hands at regular intervals with a disinfectant soap

Change clothes after returning home (if they have stepped outside for any work)
While these tips will definitely help in ensuring a healthier pregnancy it is essential that expectant mothers consult with their doctors before embarking on any diet.