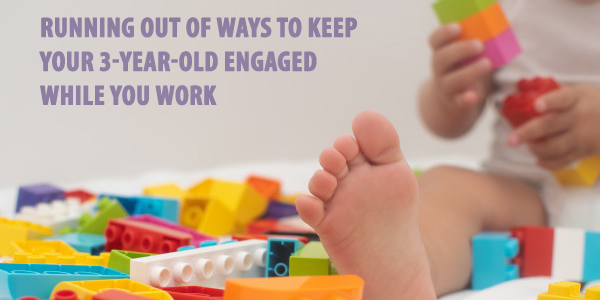 Here are some creative tips that can help you, especially if you don't want them to be glued to screens:
Create A Game Box: Whatever your child likes to play with or spend time with like, soft toys, puzzles, books, paper crafts etc just gather them all and put them in one box, from where they can just pick up & play. This routine has to be almost taught to them so that they associate the game box with something they can do on their own.
Messy Mix Up-Kids like mixing and stirring liquids or semi-solids. You can put a tarp on the floor and give them light weighing vessels and ladles with some batter or cream which they can keep stirring. They'll just love it!
Make Them Do Household Chores: Folding clothes, wiping light, safe containers, arranging cabinets. Some kids love arranging things, it enhances organisational skills and keeps them occupied too.  They also learn to value things at home better.
Help Them Develop Different Hobbies: Paper crafts, even sculpture (using pipe cleaners & styrofoam, child-friendly material) or even a musical instrument. This is the best time to get them exposed to different skills. They learn fast and you too will get an idea of what they may like to explore in the future.
Engage Them By Giving Them Something To Do For Someone Else: Children love it when they are made to feel responsible or when they're given control of something. They love taking charge! Get them to make something for Dada/dadi, for friends or their favourite teacher. It could be a drawing, learning a poem or even decorating something.
Children are great when they learn and enjoy exploring activities on their own. They just need to be given an opportunity to do so and you'll see, they do wonders! If your little one is too attached to you, this might take time but it's not impossible. Help them to develop a self-engaging routine by initially doing those activities with them and then slowly let go, you'll see that within no time they'll have taken full charge!