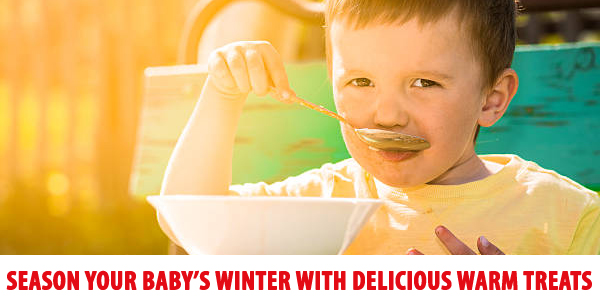 Looking to make this winter a nutritious one for your little one? Well, here are some winter foods that your baby will love to devour. Easy to make and easily accessible, these foods will keep those little taste buds happyin this cold season.
Dry Fruit Powder Milk: Give milk a different & delicious twist by adding some dry fruit powder to it. Dry fruit powder will give your toddler a nice warm goodness of rich dry fruits like almonds, cashews, raisins & walnuts. 2 tbsps of dry fruits for 1 cup of milk will do the trick. Make sure to store the powder in an airtight container.
Badam Halwa: A favourite sweet of many Indian households, Badam halwa or Almond Halwa might be too rich for adults watching their weight but for the little ones, this sweet gives them the perfect blend of delicious & nutritious. Made with milk, sugar, ghee & almonds this unassuming looking sweet brings joy to the tongue and warmth to the body! Known to be a great source of proteins & carbohydrates, almonds stimulate the digestive process & strengthen bones. A little tip: It tastes best with homemade ghee!
One of the best ways in which you can feed your baby lentils & vegetables is through soup! Yes, warm, tasty & highly nutritious the vegetable & lentil soup made with moong dal and assorted veggies like carrots, beans peas and potatoes(small quantity). Bet your baby will not mind more than one serving of this lip-smacking soup. Proteins of dal & vitamins of veggies this soup is a perfect example of 'it has it all'!
Other alternatives to badam halwa & vegetable lentil soup could be the usual- carrot halwa & tomato soup.
Boost your baby's immune system with some fresh carrots soaked in milk, ghee & nuts. Brown or palm sugar would be ideal!
Tomato soup is generally everyone's agony aunt on a cold winter night; and why not rich in vitamin C, tomatoes, when whipped up into a tasty tangy soup, with cream, is just irresistible to kids!
Go on now, cook up a warm winter for your little ones!