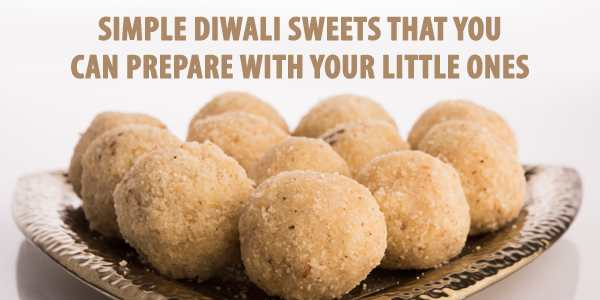 The auspicious festival of firecrackers, spectacular lights, irresistible traditional sweets and gift exchange is just a few weeks far. Diwali is undoubtedly the most awaited festival for everyone.
Be it kids, adults, senior citizens or your pets- everyone cherishes this gleamy time of unlimited sweets and fun gatherings.
And to make this time more exciting for your munchkins, surprise them with the idea of preparing Diwali sweets together. We bet this idea will make them jump and dance all over the house. So here's the collection of simple homemade sweet recipes that you can prepare with your little ones:
Gujiya: Gujiya is a traditional sweet and deep-fried dumpling that is made from all-purpose flour. It's stuffing is made from mawa, sugar, nuts and is very rich, sweet in taste.
Ingredients: For covering:
2 cups all-purpose flour

1 cup water to mix
For the filling:
1 cup grated coconut

1 cup of sugar

1 tsp powdered green cardamom

1 Tbsp finely chopped almonds

Oil/Ghee for deep-frying
Method: 
Mix all-purpose flour with ghee & water and knead into a stiff dough. Cover it with a wet cloth and keep aside.

For the filling, mix coconut, sugar, cardamom and almonds. 

Roll out a small part of the dough, wet the edges with water and place some filling over it. Fold the other half over and gently stick the edges to seal.

Design the edges with a fancy cutter or make a design by pinching and twisting. This is the most fun part for kids.

Heat oil/ghee in a kadhai and fry the gujiya till golden brown. 

That's it, your yummy gujiya are now ready!
Kaju Katli  : Kaju Katli is basically a cashew fudge that is the most loved Indian sweet. Here's how you can make this:
Ingredients:
100 gm cashew nuts, ground

6 Tbsp sugar

1/2 tsp green cardamom powder
Method: 
Grind cashew nuts into a fine powder.

Boil water in a non-stick pan and add sugar and saffron. Heat it till the syrup thickens.

Mix cardamom and cashew nut powder and cook for 3 minutes.

Spread the mixture onto a thali and let it cool to room temperature.

Knead the mixture and spread the mixture into a tray. Cut it in different shapes.
Chocolate cashew ladoo : Chocolate cashew ladoo is the easiest Diwali sweet recipe. These are chocolate clusters that are tasty, crunchy, fast, and simple to make.
Ingredients:
1 chocolate Bark

2 cups Cashews
Method: 
In a large bowl heat some water and melt the chocolate bark in the steam of boiled water. Stir it until melted and smooth.

Mix cashews into the melted chocolate.

Take the mixture and drop by teaspoon onto a parchment-lined baking sheet.

Allow to cool and set.
Coconut ladoo  : Coconut ladoo is a round or ball-shaped Indian sweet prepared from fresh desiccated coconut powder with milk and sugar. A simple and time-efficient way to make this is:
Ingredients:
Coconut Powder (unsweetened)

Condensed Milk

Cardamom Powder
Method:
Slightly roast the coconut powder for a minute.

Mix coconut with condensed milk and cardamom powder and shape the mixture into round ladoos.
Seriously, it's that simple and if you want, you can skip the roasting coconut part.
Shahi Tukda Shahi Tukda is a Mughlai dessert made with fried or toasted bread and thickened sweetened milk boiled with saffron and nuts.
Ingredients:
2 tbsp refined oil

2 bread slices

100 ml of milk

2 Tbsp sugar

A pinch of saffron

Cashew nuts and raisins (optional)
Method:
Fry or toast bread slices in a pan with a little bit of oil and keep it on the plate.

In a pan, boil milk, sugar and saffron until it thickens.

Add raisins and cashew nuts.

In a plate, place the toasted bread and pour the mix over it.

Serve hot.
Let us know how you like these recipes and enjoy the festive season with these delicious yet simple recipes.
Happy Diwali 2020!