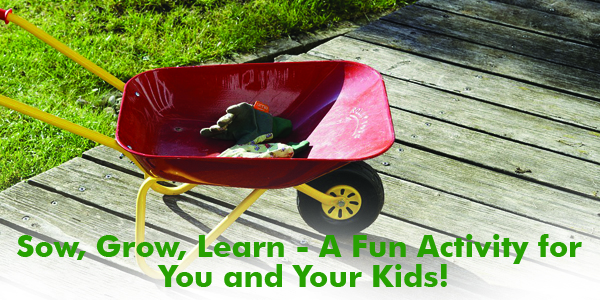 If you observe you will notice that kids love to play in the dirt. Mums will know after all those days of washing muddy clothes. How about you channelize this liking of theirs into something creative and fun?
Get out those gardening tools, put on your gloves, roll up your sleeves and get some dirt into those nails for it's gardening time! This is a fun way to engage your children in learning about nature, nurturing and nutrition in the most fun way possible.
Here are a few gardening activities for your kids.
– For your newborn – Planting a tree for your precious: Amongst the numerous way to celebrate the beginning of a new life, one way to mark the event is to plant a tree in the name of your baby. Trees give us the air that we breathe, recycling carbon dioxide into oxygen, this can be taught to your child as he grows with the tree. This deed of planting a tree is very inexpensive if you may think it is a huge investment. Photo documenting comes in handy at this stage. As your child grows you can take some pictures of him standing next to the tree and one fine day when you kid is all grown  up you can take a walk down memory lane. Tell your child that this tree is his own, this will give him a place that he knows he can call home. If this is a new tradition you have started then it's never too late to do that same for your older ones on special occasions like their birthdays. Space shouldn't be a constraint either. You can always plant a tree in a little pot and have a miniature version.
– A garden full of Lessons for your toddlers: Picture the smile on your child's face when she plucks a flower that she has grown and presents it to you. Or when she picks out her favourite fruits and vegetables from her very own kitchen garden. Quite a memory isn't it? Maintaining a tiny garden of their own also serves as productive outdoor entertainment. The doesn't have to be anything elaborate, even a small herb garden with a few easy to grow vegetables would suffice. How would you like it if we told you that you wouldn't have to use these three words again – Eat Your Vegetables! – instead you can slip in a few lessons on vegetables and their nutritious values. Growing vegetables they like to eat will excite and encourage them to watch their little gardens flourish. It has been noticed that children who are in preschool are eager to see their hard work bear fruit. In order to satiate this craving of theirs you can pot a few plants that are just about to go into full bloom mode so that when you child is home from school she will see the flowers and a brilliant smile will bloom on her face. Don't worry about having a yard for your child's garden, you can always make a mobile garden or a vertical garden using tools and items lying around in your house. Let's not forget like every other project this little garden project also requires a certain amount of research, so make sure you get that sorted and also let your child know that she is free to eat the fruits of her toil but she must keep you informed.
– A garden patch for your school going children – Sowing the seeds of learning: Once your child is older you know they are ready to take up the challenge of having bigger gardens with a larger variety of flowers, fruits and vegetables. Tilling his little patch of land and planting, watering, weeding and watching a garden burst into life and maybe develop a green thumb and start being thankful for the world around them. You may encourage your child to pick out a few plants that require more attention but be wary as to not take on too much. The whole idea of gardening is to be a stress-free zone for your offspring. Get creative and crazy with the fruits and vegetables you help your child grow and watch your child beam with pride as he talks about his blue carrots and purple potatoes. Now is where all the fun starts, ask your child to maintain a gardening journal jotting down all the changes that his little garden undergoes. He can draw up a little map that shows him what is growing where and a timeline charts that tells him how fast his plants are growing and other environmental changes. While doing your research make sure to involve your child so that he is aware of what sort of plant he is growing and don't forget to print out labels with the common names as well as scientific names and slip in a lesson on plant names and their nature. Get creative and decorate your child's garden patch with easy DIY arts and crafts with your child's help to give a personal touch and also make him have a sense of accomplishment.
Watching your child indulge in his little garden and grow as a person with the plants in his garden is something that will be more special to you than the sweet smelling flowers and delicious fruits and vegetables.
Happy Gardening!