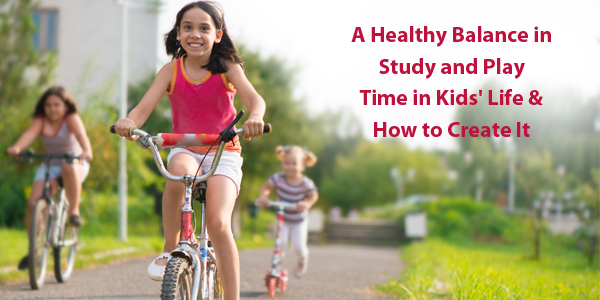 All work and no play makes jack a dull boy – very true indeed. We need our kids to have the perfect balance of studies and play time but these days, with the intervention of technology, balance is a far cry from the truth.
As parents, we need to understand that both playing and studying are an essential part of our children's lives. Playing develops a sense of social and emotional well-being in them whereas studying develops a sense of confidence and intelligence in them.
Even though it might be a little difficult to achieve a perfect balance between the two, here and some tips and tricks that you could follow to reach as close to that balance as possible:
As a parent, one of the first and foremost things to do is to set ground rules. You have to let the kids know that there are certain rules to be followed at home when it comes to spending time between studies and playing. Setting ground rules at the beginning will help you to set a pattern for studies and play time both.
Ground rules are nothing but a set of pre-agreed rules between you and your children about    their studies and playing. For example, you can make a rule that unless the day's homework is finished, you kid cannot go to play badminton. Or you could make a rule that after playing an hour of badminton, there should be a compulsory one hour of study time etc.
Understand your child's likes and dislikes and act accordingly
Most of the parents fail to gauge that even though your child does not like studying, there are certain subjects that they have a liking towards. If parents can understand that and orient them towards their field of interest, it will be a progressive time for both of you.
Similarly, it's possible that your kid is not a fan of outdoor sports, but there might be some indoor games that your kid might like and you can orient them towards that. It's important to understand that each child has their own likes and dislikes and it is easier to motivate them towards something they are passionate about.
Make them fall into a regular schedule
Creating a nearly perfect schedule is essential for your kids. It's important that you give them enough time for each activity and let them know that whatever they want, can be done if they have a proper schedule for themselves.
Getting them into the habit of timetable making early on will help them till they grow old. Successful people are the ones who have a set routine to follow. Also, that does not mean that you overschedule your kid's activities and squeeze one too many things in a short span of time for them. Make sure they have enough leisure time apart from their sports and study schedule.
Make sure that you know what is going on at your children's school. Once you are well aware of what their school routine looks like, you can easily make a choice as to how their routine at home could be. Get involved in their extra-curricular activities and try to understand their strengths and weaknesses.
As parents, it is important that we understand what our children's choices look like from an early age. Once we gauge their choices a little, we can envision a bigger and better future for them.