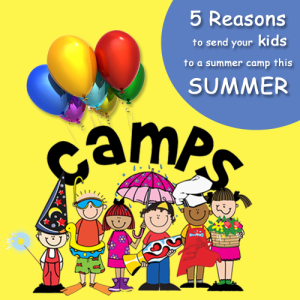 A summer camp is one that generally begins in April or May and continues through June. This type of recreation is popular among children in the age group of 1.5 yrs old to 18 year old. It gives them the opportunity to experience new things, meet new people and embark on a journey of independence. With that being said, the following are 5 popular reasons to enrol your child in a kid summer camp.
Independence:
Children get their first taste of independence in a summer camp. Away from home for the first time, this time can be scary, but new friends and fun activities help to make the transition easier. For the older kids, this is an important step toward college or school preparation, which often requires that the child leave home for a few months at a time.
Responsibility:
Summer camp inculcates responsibility in a child away from home for the first time. Subsequent summer camps only reinforce this virtue. Typical responsibilities in a summer camp include the organization and safe keeping of their personal items. Away from home, they will be personally responsible for maintaining their living quarters and personal items. In addition, they will be required to pack their belongings at the end of their stay with no motherly help from anyone. An ideal way to teach children to be responsible is by first hand experience.
Teamwork:
Sibling rivalry, group conflicts, resolution of those conflicts and negotiation are all part of growing up and learning about team work. One of the most important experiences at a summer camp is that of learning to work together as a team. The activities which form a part of a summer camp imbibe this virtue in children. Any games that are played here require team-effort and a competitive spirit. Much like in adulthood where teamwork is essential to everyday life, children will learn the valuable lessons of working with their peers toward achieving a common goal.
Friendship:
Summer camp is also fun time, where new ties and friendship is made. Learning to make friends and how to be a good friend is an important life lesson that is not only important at a summer camp, but also in every day life. Situations are always presented when individuals are placed amongst new faces in school, the workforce, families, etc. Therefore, it is important for children to learn the value of friendship and how it can make every day a little brighter.
Experiences:
Travelling to new places, embarking on an exciting journey and exploring the wilderness are all apart of what makes a summer camp so special. Usually all summer camps have activities that expose them to nature. The loving and fascinating ways of nature is not something that a child experiences in day to day life. Summer camp teaches them to take a moment and experience the wonders of nature. A true love for nature, when built at an early age remains a life long habit and a true friend. There are a lot of life lessons and other take-away's from a summer camp. Every child develops some special characteristics that were not prominent thus far in his personality. He learns about the importance of having a family and comes to respect familial ties.