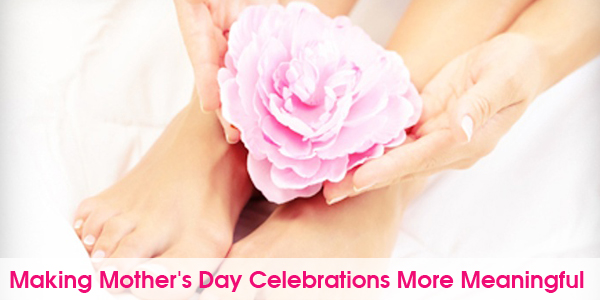 Who goes through 9 months of intense physical discomfort, who stakes her own life to bring you into this world, who spends the best part of her life looking after you, who always gives you unconditional love, who starves, if necessary, so you can eat, who defends you with her life.
One could go on and on, but the series of queries above are clearly no-brainers. They are not questions, but a series of statements meant to remind ourselves to be grateful for the presence of the most special person in our lives – the very reason for our existence.
All great people in the world have one thing in common – a mother who believed in them, who encouraged them, who made them believe they were special in a way only mothers are capable of.
"All that I am, or hope to be, I owe to my angel mother."
– Abraham Lincoln, American President
Our mother is our best friend, our first teacher, our constant guide, our most dependable confidante. Mothers are the only ones we can trust with our life.
Well, all of us have been recipients of her boundless love and kindness. But, have we returned the love and shown our gratitude for the privilege enough?
We all have, in our own little ways, for sure. Mind you, she never expects anything in return.
But, surely we could do a whole lot better than ringing her up on Mother's day and wishing her.
No matter how old or young you are, you are still a child to your mother. So let us make a few pledges to ourselves on the Mother's Day this year, and never let go of them.
Make a pledge to help her with household chores: Ignore her protests and take on some of the more labour intensive chores at home.
Make sure you call her as often as you can: This goes a long way in alleviating her anxiety, if you are living away from home and it also helps her sleep better.
Get rid of an annoying habit: If you have been unsuccessfully trying to stop doing something your mother does not approve of, go ahead and do it now.
Take her out often: Anyone familiar with household work will tell you what a challenging task it is to think of a dish to prepare, 7 days a week. She'd welcome it!
Help her to preserve the precious memories: Round up every bit of memorabilia, photos, videos of your family life, catalogue them and take measures to preserve them. Nothing is more dearer to her.
Fulfill a wish of hers: Every person has a wish of a lifetime – and mothers are no different – which they are unable to fulfill without others' help. It could be as simple as some place they have always wanted to visit or something more simple and basic.
We can never pay our debts to our mothers. Remember, there is only one of her in everyone's life! At the very least, let us take a pledge to never hurt her by our words or deeds – probably the only thing every mother expects from her children.