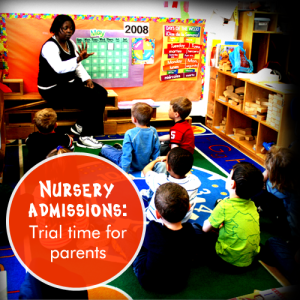 It is that time of the year again when one can see queues and queues of anxious parents waiting to obtain admission forms of the reputed schools for their wards. The time when parents wanting the best for their wards are busy making the rounds of numerous schools, discussing with parents of school-going children, searching the Internet, basically doing everything in their hands to get their wards in one of the best schools in their area. So here are some of the pointers that parents need to keep in mind while joining in the race to get your ward admitted to a reputed school.
Top six schools in your area:
These days lots of schools have cropped up, all bearing either the 'world school' or 'international school' tags, thus confusing first time parents of ready-to-go-to school kid. However, the trick here is to get the school brochure, go through it thoroughly and speak to other parents in your area about the education system – whether it is based on CBSE, ICSE or International Baccalaureate (IB). So the first and foremost step should be identifying the top six schools in your area, and then fill out the forms. If I had my way when my son Prince A started schooling I would have skipped the top three schools and gone for the fourth one. Why? Because I feel that the fourth school would have had better teacher-student ratio, which sadly is not the case with top most schools – 44 to 45 students to 1 teacher is not a good ratio (at least not in my terms). But unfortunately I didn't get my way, as the in-laws wanted him to attend a particular school.
Things to look out for in schools:
Your kid will be beginning a new chapter in his or her life and the school you choose now will make an impact on his or her personality, so look out for these things before filling the forms. Check out for – (a) teacher-student ratio: it should be in the range of 20-25 students to 1 teacher and one ayah in the class, (b) education system the school follows: whether it is CBSE, ICSE or IB. (c) school's status: whether it is up to higher secondary level or is it senior secondary level or is it just a primary school, (d) transportation: another thing you need to keep in mind, as most schools don't have buses for nursery level kids. It happened with us – my son travelled in a school bus till he was in nursery and then suddenly before his summer vacations we got a notice from his school saying that school buses will be discontinued after the holidays and parents are requested to make necessary arrangements. Hence do check out for these points, especially the (a) and (c) points because less number of students per class means more attention to each child, and schools with senior secondary level means you don't have to change schools on your kid's graduating from from primary school to junior one.
Talk to other parents:
We all are social animals and talking often solves many problems, eases our worries and clears our niggling doubts if any. So talk as much as you can with other parents who have been through this before. Listen to and learn from their struggles and the mistakes (if any) they made so that they you may avoid them. Talk to other parents about the school's homework policy, teacher-student ratio, transportation and any other thing you may feel is vital for your kid.
Talk to teachers:
Speak to teachers; not necessarily of the schools you chose for your ward but any teacher who will tell you everything you want to know about the school. Yes, teachers from other schools know everything about different schools because they keep meeting and interacting with each other during teachers' programmes that schools keep organising time to time.
Talk to students:
It may seem awkward but just like when applying for a job in a new company one talks to its employees, so is the case in schools. Students will always give a correct picture of various activities in school, hence don't hesitate in talking to students.
Fill up more than one form:
Once you have checked all the things and are satisfied about everything, you are ready to fill the forms. Remember to fill more than one form and keep a look out for the dates when the admission list of the school will be out. These days most of the schools update their list on the school website so do keep checking it for the list.
Re-published with permission from the blog of ParentEdge, a bi-monthly parenting magazine that aims to expose parents to global trends in learning and partner with them in the intellectual enrichment of their children. This blog was written by Swati Nitin Gupta who is a journalist with extensive experience in writing for newspapers, tabloids, magazines and online media in India as well as in the Middle East.