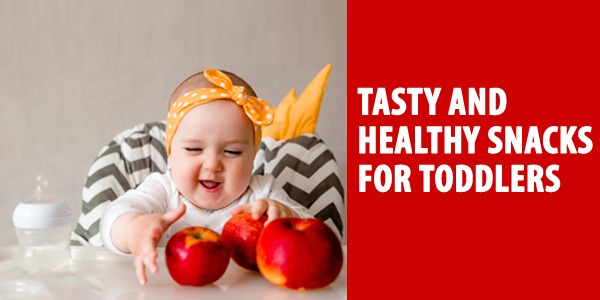 Toddlers are a bundle of energy and hence tend to burn calories faster, this in addition to the small size of their stomachs makes it essential that they are fed smaller portions at regular intervals. Therefore having a snack time in between the main meal times will not only keep them feeling full, but also ensure their energy levels do not dip. Here are a few healthy snack items which will serve as the perfect energy booster for your toddler while ensuring they get the essential nutrients to keep them healthy and strong.
Yoghurt 
Yoghurt is excellent as a snack item or even as part of a main meal. One of the best sources of probiotics, yoghurt is extremely good for your toddler's gut health.  A cup of yoghurt mixed with soft fruits like mango, peaches, blueberries etc makes for a flavourful and enjoyable snack. 
Steamed Vegetables
Steaming softens the texture of vegetables while retaining the nutrients. Cauliflower or broccoli florets, carrot sticks, peas etc make for excellent steamed snacks.
Fruits 
Bite-sized pieces of fruits like apples, pears (skin can be removed to reduce choking hazard), bananas, blueberries, mangoes, chickoos make for excellent nutrient-filled snacks.
Indian Food Varieties 
There are many Indian food varieties which are easy on your toddler's stomach (in small quantities) and also taste absolutely delicious with the addition of very little spices. Here is a list of such foods: 
A steamed dhokla with its mix of sweetness and a tinge of sourness makes for a flavourful light snack.  

Very well cooked channa is an excellent protein-rich snack

Vegetable, rava, oats and other variations of idlis while being breakfast items also make for excellent light snacks. In addition to the easy digestibility of soft steamed idlis, the presence of vegetables and other healthy additions adds to its nutritional value.

Rich in calcium and protein, paneer can be cooked in various healthy ways for your toddler. The soft and fluffy texture of paneer makes it a general favourite not only among toddlers but people of all age groups. 
Other Types of Food 
Vegetable soups are packed with nutrition and also easily digestible

Cheese (mild tasting) cubes or slices are also excellent sources of calcium and protein. 

Smoothies are also one of the ways you can get your toddler to have their daily quota of fruits and veggies.
While all of these make for delicious and healthy snacks, it is advisable to consult your paediatrician before modifying your toddler's diet.