We have studied reviews of several language learning apps and programs and shortlisted the top five. If you are looking for the best options to start your journey to learn languages easily at your own convenience look no further. We primarily look for ease of use and how intuitive the apps are, based on reviews of several users, to shortlist apps. You can easily use these apps to learn comprehensively or use as you go, while travelling around the world. Knowing how to speak basic words in the local language is known to greatly improve overall travel experience and satisfaction.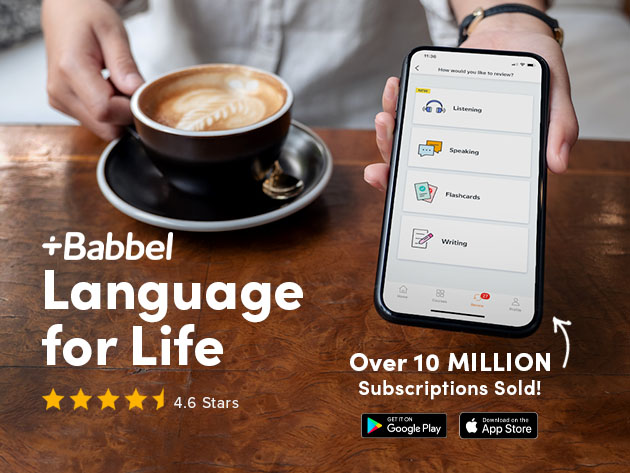 Babbel, with its nearly all 5 star reviews wins hands down. With a lifetime subscription it is priceless because…
You can Learn 14 Languages & Access More Than 10,000 Hours of High-Quality Language Education Online.

Learn Spanish, French, Italian, German, and many more languages with Babbel, the #1 top-grossing language-learning app in the world. Developed by over 100 expert linguists, Babbel is helping millions of people speak and understand a new language quickly, and with confidence. After just one month, you will be able to speak confidently about practical topics, such as transportation, dining, shopping, directions, making friends, and much more!

Learning a second language has a wide array of benefits. For college graduates in the US, fluency in a foreign language other than English led to an average salary increase of 2%. Aside from that, being able to communicate with people in all kinds of different cultures can add value to your life and allow you to experience the world in a whole new way. Learning a new language can also help you professionally, as the world of business is an international one, and having that ability can help you get ahead of the competition among other candidates.

Having a lifetime subscription to Babbel means you can brush up on your skills or learn an additional language any time you want – forever.

Get lifetime access to learn all 14 languages
Practice with 10-15 minute bite-sized lessons that fit conveniently into your schedule
Cover a wide range of useful real-life topics, from travel to family, business, food & more
Use speech recognition technology to keep your pronunciation on point
Learn at a variety of skill levels, from beginner to advanced
Get personalized review sessions to reinforce what you learn so it really sticks
Study whenever & wherever you want and your progress will be synchronized across your devices
New Babbel Account Users ONLY
For USA customers only
Use offline mode to access courses, lessons & review items when not on Wi-Fi—just download them beforehand
Languages Available: Spanish, German, Italian, French, Portuguese, Swedish, Turkish, Dutch, Polish, Indonesian, Norwegian, Danish, Russian, English
Get Babbel now from The Bril Store!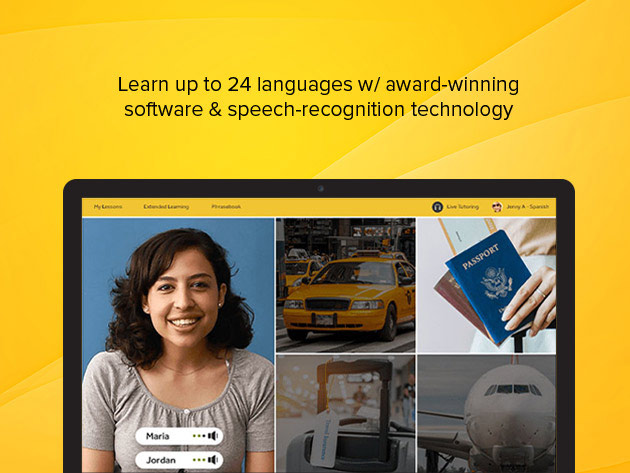 Rosetta Stone has been the go to program for several companies, to train their employees in various languages. Normally Rosetta Stone is very expensive because it is really, really good and has exceptional speech recognition and more. But, if you buy it when its on sale, and that too a lifetime subscription, it is worth its weight in gold!
The benefits of learning to speak a second language (or third) are immeasurable! With its intuitive, immersive training method, Rosetta Stone will have you reading, writing, and speaking new languages like a natural in no time. You'll start by matching words with images just like when you learned your native language as a child. Then you'll move onto interactive lessons where speech recognition technology works to evaluate and improve your accent with instant feedback. The reviews don't lie, Rosetta Stone is the best way to master a second, third, or fourth language from home.
Trusted for 27 years by top organizations like NASA, Calvin Klein & TripAdvisor!
Learn up to 24 languages (1 at a time) with award-winning interactive software & proprietary speech-recognition technology that analyzes the words you say 100 times per second
Get help from TruAccent™, the world's best speech recognition technology
Develop your command of the language as you learn to read, write, speak & understand
Learn basic conversational skills like shopping, ordering, taking a taxi, etc.
Move onto intermediate language skills like sharing opinions & discussing pop culture
Use the advanced speech engine to compare your accent to native speakers
Reviews
PC Magazine Editors' Choice Award: Best Language-Learning Software, 5 Years In a Row
Wall Street Journal: "Rosetta Stone… may be the next best thing to living in a country."
Buy Rosetta Stone Language App from The Bril Store and get great deals from $149! What's really cool is for a limited period Rosetta Stone comes with StackSkills only at The Bril Store. StackSkills is the premier online learning platform for mastering today's most in-demand skills. Now, with this exclusive limited-time offer, you'll gain access to 1000+ StackSkills courses for life! Whether you're looking to earn a promotion, make a career change, or pick up a side hustle to make some extra cash, StackSkills delivers engaging online courses featuring the skills that matter most today, both personally and professionally.
Get the Rosetta Stone, Stackskills Bundle Now!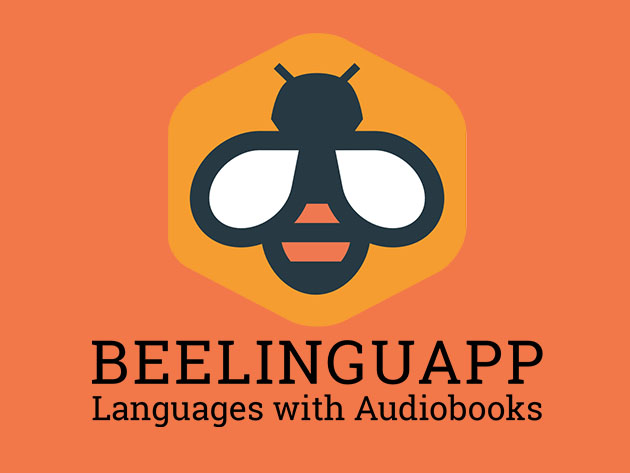 This is an app that's tremendous value for money when you can learn 14 languages with a lifetime subscription starting from $39.99! The unique aspect of this app is that you can learn languages through audiobooks!
Research shows that while reading is a good way of learning, the listening approach has the potential to help increase reading comprehension skills and enjoyment of reading. Beelinguapp uses this finding and empowers you to read a second language. It shows the same exact text in two languages, side by side. At the same time, it's an audiobook, and with its unique karaoke reading, you'll follow the audio in the text on both sides. There are many texts available in 14 languages including Spanish, English, German, Korean, French, and more. The texts go from fairy tales, news, to science papers and novels; and new ones are added every week.

Read as you listen to a native language speaker
Follow our original audio recorded by a native language speaker to know how the words are pronounced
Choose from 14 languages
Select texts in the form of fairy tales, news, science papers, & novels
IMPORTANT NOTE: Customers will need a Google or Facebook account in order to log in
Reviews
#4 Product of the Day on Product Hunt
Google Play Store

Android Excellence
Editor's Choice at 4.7 star rating: ★ ★ ★ ★ ★★
One of the 5 Best Language-Learning Apps in the Market

4.8 out of 5 stars on App Store: ★ ★ ★ ★ ★★
Buy The Beelinguapp from The Bril Store!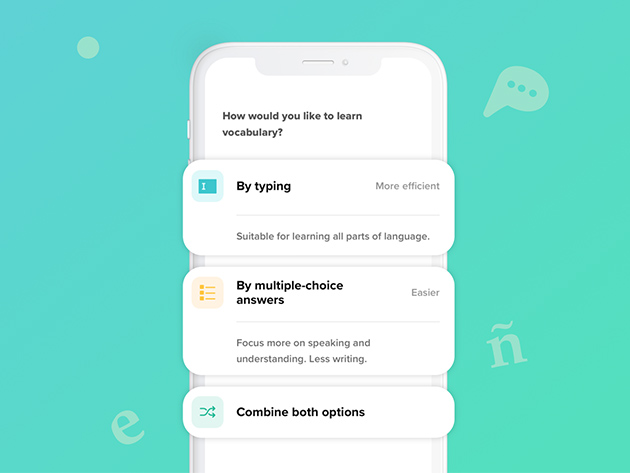 Speakly differentiates itself by helping the learner learn the fast way, using words for real life situations. Learn 8 Languages the Fast Way with This App's Statistically-Relevant Words & Real-Life Situations.
Speakly claims to be the fastest way to learn a language. The app combines science and computational algorithms to teach you the 4,000 most statistically-relevant words of your target language in order of their importance. Learn different languages such as Estonian, English, Russian, Spanish, and more. Speakly allows thousands of people to practice real-life situations right from your smartphone or computer, building their confidence when speaking a foreign language in their everyday life.
As seen in HuffPost, TechCo, Steamed, Aripaev, & more
Get lifetime access to learn all 8 languages
Attain confident skills in a mere 100 hours of study
10x more affordable compared to other language class
Cover a wide range of useful real-life topics, from shopping, directions, socializing, foods & drinks, and more
Learn at a variety of skill levels, from beginner to advanced
Study whenever & wherever you want and your progress will be synchronized across your devices
Languages
Spanish
English
French
Italian
German
Russian
Finnish
Estonian
Reviews
4.2/5 stars on Google Play: ★ ★ ★ ★ ★★
4.8/5 stars on Apple Store: ★ ★ ★ ★ ★★
Get Speakly from The Bril Store!
We have all wanted to learn a language at some point but it's hard to get started. Some language learning tools can be complicated and very time-consuming. But with uTalk, you'll be speaking keywords and phrases in no time, and will start to see the results straight away. It helps you overcome the language barrier challenge by helping you learn real, practical vocabulary in a wide variety of languages from any device that you choose. uTalk's language programs let you listen to native speakers who are recorded in uTalk's recording studio and feature independently verified translations so you'll be able to navigate through your next vacation like a real local.

Choose six of over 140 languages (see Important Details for full list) to learn from any device, any time you want
30 million+ customers have used uTalk learning method
Learn from any language, not just English
Over 60 different learning Topics
Up to 180 hours of learning but you can dip in and out of any Topic
Use uTalk on any device
Totally localized language app, so you can learn any of the languages from any language
Works offline as well as online so you can use uTalk on the go
Slow down the native speaker to perfect your pronunciation
You don't need to choose all languages at once – you can pick one now and the other later
There is no time limit on when you must choose your languages
Discover real, practical vocabulary that you can use in real-world situations
Measure your achievements as you go along
Verify your learning by playing speaking games
Access your account from any device so you can pick up where you left off anywhere
Awards & Reviews
The Queen's Award for Innovation and Export
The Chartered Institute of Language Threlford Cup Winner 2019
4.3/5 stars on IOS App Store: ★ ★ ★ ★ ★★
When you Buy UTalk from The Brilstore you get it with StackSkills that offers more than 1000+ online courses across topics. Buy it Now while it's still available for a steal at $29!
*Prices/offers are subject to change
Bril earns a commission on all products sold on www.thebrilstore.com . Stackcommerce handles all customer support for The Bril Store.