Getting fit and healthy is something that should be a top priority for everyone. Since the pandemic hit, this has become a much more pressing need. Being healthy mentally and physically is the only way you can navigate a fast-paced world with the added issues of pandemics and daily stresses.
We have scoured the web and curated some world-class fitness products, apps and tools that you can use to get your health and fitness journey started.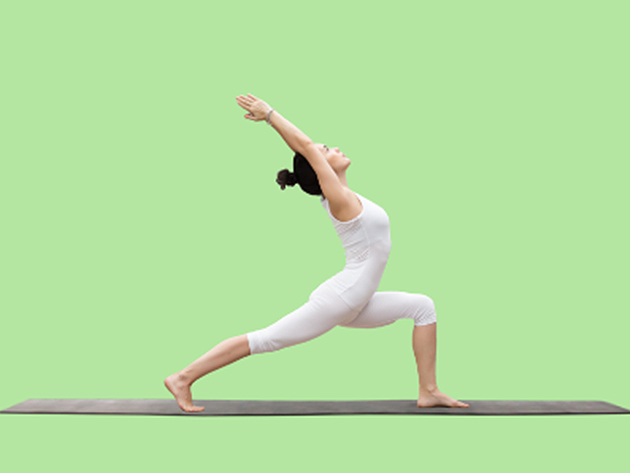 Let's start with a super-cool free yoga course that you can easily sign up for to get your physical, mental, emotional and spiritual health in order.
Hone Your Meditation & Breathwork Skills with 32 Lectures on Yoga and Its Every Aspect
Immerse yourself in the magic of Yoga, and grow from strength to strength! This is a comprehensive, holistic and engaging yoga course that addresses every aspect of full and vibrant Yoga practice. Starting with the building blocks of this incredible practice you'll move through some basic postures and a warm-up sequence that will get you into your body and out of your head. You'll then go over the basics of movements, main body systems, Pranayama, and storytelling. This course will also cover meditation and mindfulness and how they would largely affect your day-to-day life.
4.8/5 average rating: ★ ★ ★ ★ ★★
Access 8 lectures & 8 hours of content 24/7
Master beginner to advanced Yoga poses
Understand the history of Yoga & how it has evolved over time
Individualize your Yoga practice for your own body
Hone your meditation & breath-work skills
Take your practice to the next level with inversions
Get the FREE: Yoga 4-Week Course from The Bril Store NOW!
Take your Yoga practice to the next level with Yogaia Interactive Yoga Classes: Lifetime Subscription
Get Feedback from Real Yoga Teachers at Home with Lifetime Access to Basic to Advanced Workouts
Been pacing your apartment a few times? Turn your idle time to something worthwhile with Yogaia. Yogaia is the world's first live and interactive online yoga studio that broadcasts over 1000 mind and body classes and workouts — yoga, meditation, pilates, stretching, foam rolling, and a lot more! These classes range from 5 minutes to over an hour and demos gentle to vigorous, easy to advanced routines. The content is available as interactive live broadcasts and on-demand recordings via web, iOS, Android and Apple TV. To date, 30,000 classes have been broadcasted and attended millions of times by Yogaia members in 140 countries around the world.
316 Great Reviews on TrustPilot
Classes from 5 mins to over an hour, gentle to vigorous, easy to advanced
Live & interactive yoga classes, where you participate in real-time
Live classes can be watched as recordings afterwards
100+ NEW classes EVERY WEEK
Buy Yogaia Interactive Yoga Classes: Lifetime Subscription from The Bril Store!
Now it's time to take your fitness to the next level with The Introduction to Fitness for Beginners Bundle. We mean get ready to go for the six pack abs and super-core-strength!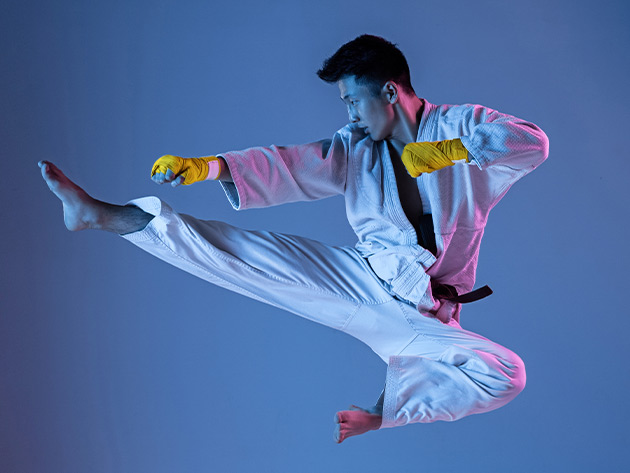 This fitness bundle includes the following courses:
Martial Arts Workout Challenge: Daily Exercise Routines Course
The Health & Fitness Masterclass: Diet, Workout, and Mindset in 1
Weight Loss & Fitness: Build Your Perfect Fat Loss Workout
12-Minute Home HIIT Workout: Get Fit & Burn Calories at Home
Six Pack Abs Masterclass: Ab Workout, Diet & Core Strength
Fitness Trainer Certification: Gym Workouts & Bodybuilding
Introduction to Fitness for Beginners
Complete Guide to Core Stability
Muscle & Strength Building for Intermediate Fitness Level
Buy The Introduction to Fitness for Beginners Bundle while it is still on sale from The Bril Store!
If you want a really simple yet effective fitness and nutrition program, go for The Simple Fitness & Nutrition Bootcamp.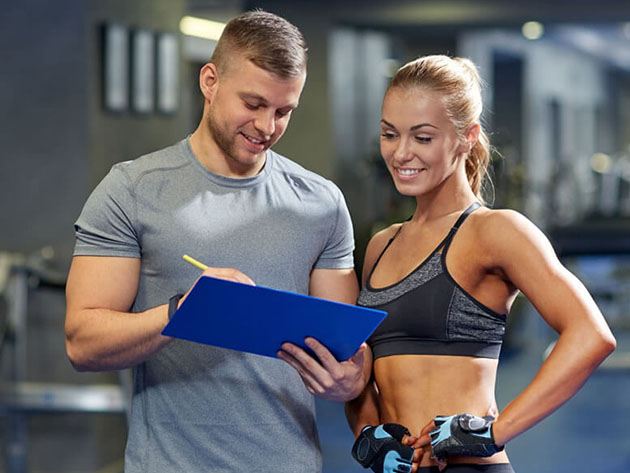 Your 3-in-1 Course Bundle to Help You Design a Practical Diet & Fitness Plan for a Healthier You!
Do you want to lose body fat and build muscle through an improved diet plan and health regime? The Simple Fitness & Nutrition Bootcamp Bundle offers 3 courses to teach you the right diet and foods to eat before and after training and how different exercises can greatly improve your physique, wellbeing, and general health. You will also learn about the different aspects of health and an easy-to-follow training and cardio fitness program. These courses will work great together to bring out the fit and healthy you.

Access 173 lectures & 9 hours of content 24/7
3 courses: Nutrition- Balanced Diet & Health; Fitness Diploma- Personal Training Masterclass; Fitness & Nutrition- 4 Week Functional Health Transformation
Find out how to change what you eat when exercising so can perform at your best>Learn about the five pillars of health including nutrition, movement, stress management, hormonal balance, & personal beliefs
Gain knowledge of different exercises & working muscle groups and a knowledge of how muscles function
Learn about the benefits of cardiovascular training & the different types of cardio that are part of this fitness programme
About the Instructors:
Dr. Zsuzsanna Fajcsak is an expert in helping people improve their lives. She works in 3 fields: Health & Lifestyle, Coaching & Inspiration, and Education. Dr. Zsu has a Ph.D. in Nutrition, as well as Master's degrees in Teaching Physical Education, Exercise Physiology, and Clinical Nutrition. She is also trained in Neuro-Linguistic Programming, has a Certification in Time Line Therapy Coaching and in Functional Diagnostic Medicine, as well as being a trained Yoga teacher. All of these areas converge on her interest in the interaction between the mind and body.
Jen Puzio is a NASM certified personal trainer who is passionate about inspiring and teaching others about health and fitness. She loves to share her knowledge showing others how to live a healthy lifestyle and focuses on creating online training programs and fitness courses.
Christopher Sasha is a Functional Health Strategist, author, and public speaker. He is a strong advocate for being proactive with health and taking advantage of the 70% control we have on our health. Hr learned to renounce most conventional medical advice and embrace cutting-edge science.
Buy The Simple Fitness & Nutrition Bootcamp from The Bril Store!
This is a power-packed everything you need Fitness App by Jillian Michaels. Whether it is diet or workouts, this app packs it all in.
World's Leading Fitness Expert Helps You Customize a Workout for the Best Health Results
Jillian Michaels is the foremost fitness expert in the world and a renowned life coach. Committed to helping people be the best versions of themselves and live their happiest and healthiest lives, Michaels has dominated the health and wellness space with her award-winning app. The Fitness App puts Jillian in YOUR pocket. It's an award-winning personalized health and fitness app with an advanced dynamic workout system featuring Jillian Michaels' DVD collection and an Advanced Meal Planner System (AMP)! Now with audio-only workouts for outside exercise on top of audio-only meditations providing another tool for a holistic approach to fitness.
This plan is only available for new users
Includes 800+ workout exercises shot in HD video
From basic to advanced; from HIIT to targeted routines
Select fitness levels to adjust the intensity of the workout
Swap & ban exercises from the workout
Adjust transition time of exercise during a workout
Select available equipment to use in the workout
Play your own music during a workout
Let Beat Sync adjust the beat of the music to the pace of workout
4.7/5 stars on App Store: ★ ★ ★ ★ ★
Best of Award WInner & App of the Day on App Store
4.5/5 stars on Google Play Store: ★ ★ ★ ★ ★
Best of Award Winner on Google Play Store
PCMag: "Jillian Michaels Fitness gives you a custom daily workout and meal plan to follow for slimming down and building muscle. It has options to suit different dietary restrictions. It's an excellent app for those who want tough workouts."
Get Jillian Michaels: The Fitness App (Lifetime Subscription) from The Bril Store.
Develop a Healthy Lifestyle from 100+ of the World's Best Athletes, Sleep coaches and psychologists

Ultrahuman—the award-winning fitness platform that helps people workout efficiently, optimize their sleep, and meditate with the help of athletes, sleep coaches, and psychologists. The platform offers HIIT classes, yoga, running, marathon training, meditation, bedtime stories, sleep tools, and brain music. The Ultrahuman app provides a masterclass-like strategy of bringing the best athletes and psychologists in the world on one platform. Partners include leading athletes and celebrities like Crossfit champion Kara Saunders, and a whole lot more. Ultrahuman has an innovative biofeedback integration to provide users with real-time insights into heart rate and calories burned, the effectiveness of meditation, workouts, and brain music right in the app.
Learn from 100+ of the world's best athletes, neuroscience experts & psychologists
Sleep better, less stress and workout smarter
Progress everyday with carefully-crafted and progressive workout programs
Discover the power of your mind via research-backed meditation
Fall asleep naturally with its bedtime stories
Available across leading devices like iPhone, iPad, Apple Watch and Android phones
Reviews
4.4/5 stars on Apple Store: ★ ★ ★ ★ ★
4.5/5 stars on Google Playstore: ★ ★ ★ ★ ★
Featured on Financial Timers, MarketWatch, Morning Star, CNet & Business Insider
Best of Fitness Tech at CES 2021 – Business Insider
Apple Store's Apps We Love Awardee
Urban Daddy: "The new fitness and meditation app we all need right now. Ultrahuman wants to help you workout, relax and sleep."
Tech Crunch: "Ultrahuman uses a technology platform-based approach to improve experience and long-term results."
Buy The Ultrahuman Holistic Fitness App: Lifetime Subscription from The Bril Store!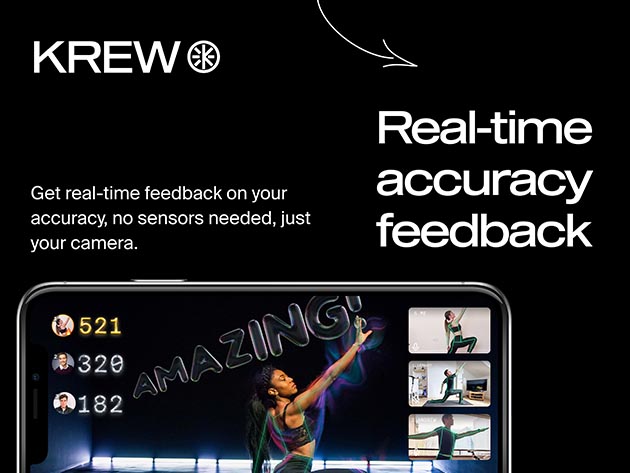 100+ Live & On-Demand Fitness Classes! Get Started on Your Own or Start Challenging Friends
Your life. Your rules.‍ On-demand and live classes to match your busy life.

Everybody should be able to better themselves, without limits. Enjoy live and on-demand classes from the world's best fitness and health professionals wherever, whenever. From HIIT and yoga to pilates and dance choreographies. Krew's sessions can be enjoyed solo or at sweat parties with friends. Krew provides AI-based feedback on the spot, only requiring access to your camera so that you can challenge yourself to improve, whether in a solo class, or through the group leaderboards, which measure your cardio, accuracy, and technique execution. Featured in Business Insider, Product Hunt, and SportTechie
#1 Product of the Week – Product Hunt (May 30, 2020)
100+ live and on-demand workouts

Browse live and on-demand classes from the world's best fitness & health professionals
Wide variety of classes, like HIIT, Yoga, Pilates, Dance, and Strength

Real-time feedback with friends

Live & on-demand cinematic classes you can take solo, or in a watch party with friends – on desktop or mobile
Push yourself with real-time feedback; only requires your device's camera to help you improve your cardio, technique, & accuracy

Host-it

Paste the URL of your most-loved exercise or dance video to create your own workout, & to be able to invite friends to it
Get real-time feedback & compete against each other on the quality of your execution

Friendly in-class competition. Compete with others in your class on Krew through the AI-powered leaderboard
Unlimited streaming from anywhere. Stream where you like & on any device. No apps, no downloads, no cut off times
Get Krew AI-Powered HIIT, Yoga, Pilates, & Dance Fitness Training Classes: Lifetime Subscription from The Bril Store!
*Prices/offers/bundles are subject to change
Bril makes a commission on all products sold on www.thebrilstore.com
All products are sold by third party vendors and customer support is handled by Stackcommerce