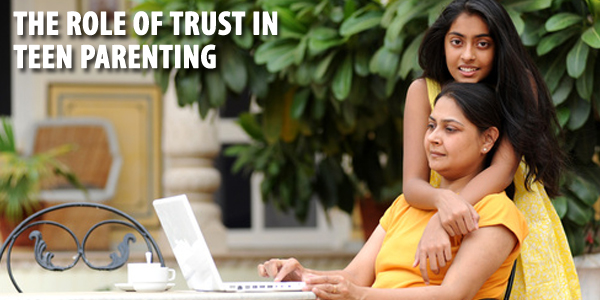 Teen parenting can be quite stressful for the parents as well as children.  The physiological & psychological changes an adolescent goes through influences the parent-child relationship to a big extent,-a very conflicting, tumultuous & challenging relationship unfolds and parents are not really ready for such a big change.
There is one thing that helps calm the storm-TRUST
How do you build between trust your child and you?
-Your children now confront decision making & independence for the very first time: Allow them to soak in some of the action. Trust them to make the right decision. Let them know that you're there for them when they need you.
-Let them learn to make their mistakes. That's how you learnt, that's how your parents learnt so why should it be any different with your child. You can give suggestions of course and at the same time steer away from imposition. Encourage them to look at mistakes as learning experiences; this will keep their confidence; whereas judgments will break it.
-Setting boundaries -one of the most complex yet integral aspects of the relationship. Make sure you set these boundaries of accepted behaviour along with your child; making it more inclusive rather than coercive. Find a time when both of you are in a good mood and take up issues one by one-food habits, friends, going out whatever it may be, make sure the conversation is friendly, open & inclusive.
-Discuss the consequences if these boundaries aren't accepted. Shifting boundaries are also imperative. As yo children grow boundaries will evolve; they could also shift when your children fail to respect the boundaries.
-Negotiations are going to play a part. Something really disagreeable to you? Try and see how you can negotiate. You don't want your teen to throw a fit of rage or lose their trust/confidence.
-Make them understand why some things are non-negotiable, express your care/concern.
-A big part of such conversations is listening. Listen to your children, their woes/concerns, remember they're already going through a lot so making them feel that they're views are important and that's they're being heard is important.
Teenage just like any phase will pass on but these tips above will allow for a smooth passing. Don't forget they are a part of you, though they might be different in thinking or being-they still are a part of you and will always be!