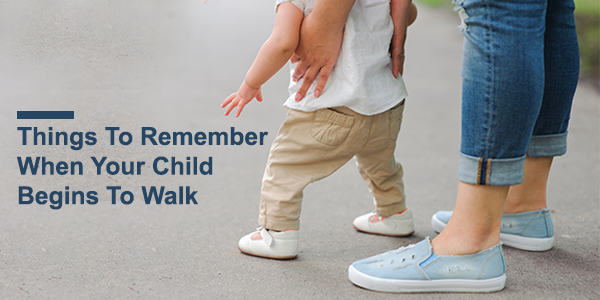 I recall my mom telling me how she'd tie my ankle to a rope when I had first started walking. She claims that I was a very troublesome kid so tying me was the best option she could think of to keep me from getting hurt.  Just like my mom, every parent tries to do their best when it comes to the safety of their little one. While walking can be super-exciting for the kid because of the newfound mobility and independence; it can be a challenge for the parents to keep their munchkins safe. Here's how you can keep your baby safe as it begins to walk-
Pad the furniture: Furniture made of wood, glass, stone, or hard materials could have sharp corners or be harmful. Use a bubble wrap or foam sheet to cover these risky edges and sharp corners.
You can even buy pre-made furniture bumpers available in the market.
Guard the doors and windows: Open windows can pose a great safety threat to babies, you can install plastic or metal window guards or an adjustable mesh that your little one can't open.
For the doors, ensure to always use one or two door-stoppers because babies love slamming doors.
Cover the electrical sockets: Cover all the sockets with a plastic cover, transparent tape, or the furniture. This will keep your toddler from putting its finger or any object in the socket.
Lock the drawers and cabinets: Drawers and cabinets are full of ordinary items like medicines, scissors, pens, or kitchen knives that we typically don't consider harmful. It's a good idea to keep these drawers & cabinets locked or remove their knobs so the toddlers can't open it.
Safeguard the kitchen: Kids love the kitchen area. With their parents cooking breakfast, lunch, dinner, and snacks for them, they always try to get their hands on something or the other.
Ensure to install safety latches on refrigerators, freezer, or ovens. Keep the hot items away from the corners and don't keep any chair or stool which kids can climb on. You can always start child-proofing your house before your baby starts walking. 
Just get down on your knees with your hands on the floor and look out for all the potential danger. How do you plan to childproof your house?