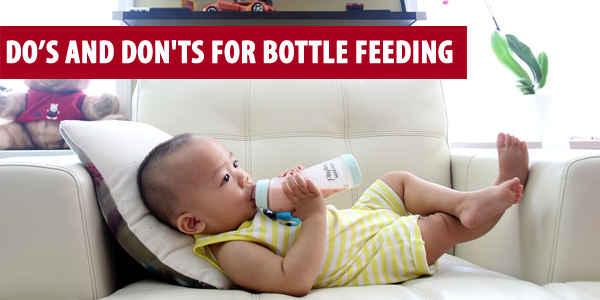 Let's begin with the position of your baby; while feeding. hold the baby in an upright position and support the head.
Make sure the teat is full so that your baby doesn't swallow air.
Feeding is a great bonding time for the mother and baby. Sing or talk to your baby while…it feeds.
Take short breaks, let your baby get some relief time.
Remove the bottle if the baby falls asleep during feeding, milk in the mouth for a long time can cause tooth decay.
Always look for guidance from midwives, pediatricians or experienced mothers.
Things you should look out for!
Check for the expiry date of formula.
Don't heat the milk in a microwave, uneven heating would remove nutrients from the milk.
Don't leave your baby unsupervised during feeding, your baby could choke on the milk.
Avoid mixing milk and formula, the formula doesn't stay for long, and you might not want to waste your breast milk.
Throw away unused milk or formula after the baby's done drinking, don't try to reuse