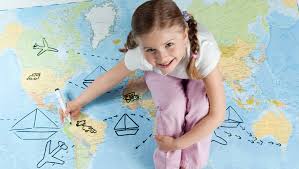 The thought of travelling with your baby can bring nightmares to you. Your baby may be the apple of your eye, but let's face it he/she is definitely a handful. That too at home! No wonder then travelling with your baby seems like an intimidating task!
So, to ease your worries we have some really effective tips for travelling with your baby. Trips and getaways need not be a thing of the past. By overcoming some of hiccups and with strategic planning your travelling days can be back!
So, the first thing you need to remember while travelling with your baby is to make sure you pack all the required items. This includes basic items like baby clothes, few toys, milk bottles, pacifiers etc.
A travel crib, portable baby chair and stroller are also good choices to take along!
When it comes to food, carry your baby's formula in an air-tight bag or their favourite cereal and porridge. Even though you might get it in stores, there are chances you might get stuck in some place where there are no stores nearby!
Besides food and other essentials, pack necessary medicines for flu, stomach bug, fever and other common illnesses.
This holds good especially during road trips.
While travelling with your baby via car, make sure you pack enough snacks for them. Take frequent rest stops and get out of the car. This way you can take enough breaks to feed your baby and give them a rest from sitting in the car. This will help your baby not get cranky!
Now when you are travelling with your baby in a plane, make sure you feed them during take-offs and landings – this helps ease the ear-pressure off.
Flights can get real chilly sometimes, so dress your baby with in layers. Carry extra clothes (warm ones) with you, just in case.
One of the most helpful tips while travelling with your baby via plane is to book an extra seat. You can bring your car seat along and strap in your baby safely and conveniently.
If your baby gets cranky, hold him and walk on the aisle, feed him (window seat is preferable here) and play with him. Don't worry other passengers are not glaring at you! They probably understand and some of them might actually offer to babysit!
If you are travelling with your baby to your parents' house or a friend's house, then you can have the whole house at your disposal – creating a home here away from your home will be easy!
But, if you are staying at a hotel, try to get a bigger room – where you can have a changing station and a feeding station for your baby. A play space will be a bonus!
The best way you can enjoy your vacation while travelling with your baby is by giving your partner breaks. Take turns to take care of the baby and let the other person enjoy some 'me-time' to relax or explore.
So travelling with your baby will not be a problem anymore. In fact it can be the most memorable experience of your life and you find so many ways to bond with your baby on a trip!